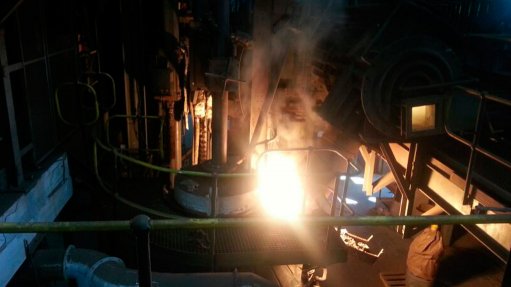 Iron producer Ironveld confirmed in a September 18 operational update that the successful implementation of newly installed power generation at its Rustenburg facilities, in South Africa, had enabled the operation of two furnaces as initially planned.
In July and August, Ironveld Smelting's attention was focused on ensuring the operational readiness of the two refurbished furnaces, along with the argon oxygen decarburisation convertor and the granulator.
However, despite the successful refurbishment of the plant, it became evident that additional electrical power supply was needed to optimise simultaneous operation of all equipment. To address this issue, additional generators were procured and fully installed earlier this month.
While this resulted in a slight delay in the activity levels of the first two furnaces, the additional power capacity now allows all equipment to operate as planned on a continuous basis.
Ironveld plans to begin work on the third furnace in October.
"We are extremely pleased to have the processing plant up and running effectively and efficiently again. It was not without great deliberation that we decided to pause certain activities but, ultimately, the decision to do this and install additional generators, until such time as the solar hybrid facility is commissioned, was the correct one," CEO Martin Eales said.
Ironveld's use of generators as a short-term off-grid solution has enabled the avoidance of regular loadshedding imposed by State-owned power utility Eskom.
The company has previously announced its commitment to install a full solar-liquid natural gas (LNG) hybrid system at the Rustenburg site, which is expected to provide power more cost-effectively than diesel generators and grid power. This installation is scheduled for completion in the first quarter of next year.
Additionally, Ironveld said progress was proceeding as planned for the BurnStar LNG-to-hydrogen project, which is set to be commissioned by the end of the year, with supply expected to start in the first quarter of next year.
This development may facilitate the use of hydrogen as a reductant in the smelting process, Ironveld said.
In August, while awaiting the installation of additional generators and making use of available power, the smelter successfully processed a test quantity of third-party metal products, generating revenue. This achievement is expected to lead to an additional cash-generating fixed-term and quantity-based contract in the short term, during the customer's facility maintenance.
The fourth furnace at the smelter is expected to enter production eventually as well, and may be made available for third-party contracts.
Ironveld revealed that the recently refurbished granulator at the smelter has exceeded expectations during recent processing, consistently producing a -2 mm final product. Based on current feedback, this performance is expected to attract more customers for the company's high-purity iron product.
"Ironveld is edging closer to a fully operational smelting plant, with the planned three furnaces nearing full operational status before the end of the year. The sheer size of the mine site, and the vast amounts of high-grade ore there, together with our ability to process and sell the product, means the upside potential is enormous," Eales said.
IPACE DMS MAGNETITE JOINT VENTURE PROGRESS
Ironveld also reported progress made in its IPace DMS Magnetite joint venture (JV), marked by an amendment to its structure and the involvement of a new funding partner, Sable Exploration and Mining (Seam).
On September 1, Ironveld announced the signing of an amendment to the structure of the IPace DMS Magnetite JV, introducing Seam as a funding partner. Seam has already provided the envisaged funding as per the agreements.
At the mine site, ground and civil works for the DMS Magnetite JV are advancing, Ironveld said. The installation of all processing equipment is expected to be completed in about four weeks, with initial product sales anticipated within two to four weeks thereafter.
This progress has also facilitated the creation of stockpiles at both mining and smelting sites to ensure a consistent supply of necessary ore to the smelter.
HIGH-PURITY IRON POWDERS OPPORTUNITY EXPLORED
The Ironveld board has started discussions with potential customers for its planned iron powders products.
Currently, there is no production of water atomised iron powders in the southern hemisphere. Ironveld aims to fill this gap, enabling local customers to avoid importing these crucial materials.
The company has allocated about R80-million for a capital investment programme to upgrade its Rustenburg production facilities. Various financing options are being considered to support this expansion without further reliance on shareholders.
ADDITIVE MANUFACTURING RESEARCH
Recent reports from research and development company Additive Manufacturing Research have indicated a 16% year-on-year growth in metal three-dimensional (3D) printing markets.
Ironveld's iron powders are expected to cater to this expanding market.
Notably, industries such as aerospace, including major players such as Airbus and Boeing, are increasingly using metal 3D printing for components.
Last month, Apple announced plans to use 3D printers for manufacturing certain components of the Apple Watch Series 9, reducing material usage and production time compared to traditional manufacturing methods.