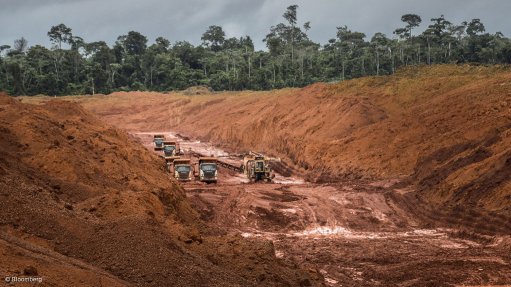 WEST SIDE LOOKING UP Guinea is likely to increase its revenue gained from mining more rapidly than from other economic activities
Photo by: Bloomberg
With Guinea not being a producer of iron-ore as yet, the major challenge for its projects – which are under consideration, owing to changing supply-and-demand dynamics – pertains to the evolution of investors' commitments in response to the iron-ore price.
The Natural Resource Governance Institute (NRGI) notes that investors are "very sensitive" to market price dynamics in the extractive sector.
The US-headquartered institute is an independent nonprofit organisation dedicated to improving countries' governance over their natural resources to promote sustainable and inclusive development.
NRGI Guinea country manager Hervé Lado told Mining Weekly that high prices keep governments in a strong position, whereas a downward trend delays investment and supports investors' requests for concessionary fiscal incentives.
At the time of writing, he noted that the Covid-19 pandemic had not significantly affected the iron-ore price yet.
He highlighted that, with an average iron-ore price of $94/t in 2019, compared with $57/t in 2015, the Guinean government began negotiations with the SMB Winning Consortium in a strong position.
Meanwhile, the World Bank forecast in April 2020 that the iron-ore price would remain at a relatively fair level of about $80/t in 2025 and $76/t in 2030.
"In 2019, the awarding process for the Simandou iron-ore project blocs 1 and 2 was designed as required by the 2011/2013 Guinean mining code, but government received only two offers, mainly because of weaknesses of the enabling environment and the infrastructure-intensive nature of the project," said Lado.
Further, he pointed out that receiving only two offers is not an ideal scenario, as fewer candidates mean reduced bargaining power for government. As such, government required a strong commitment to develop infrastructure and various economic linkages to the local and national economies.
In addition to the royalties and other taxes, which officials value at $15.5-billion over the 25 years of the mining convention, government has managed to obtain SMB Winning's commitment to abide by local-content rules, fund agricultural projects share infrastructure with other commercial operations and build a processing plant.
To incentivise investors to comply with these commitments, the new mining conventions include specific provisions that enable government to withdraw the licence if there are unjustified delays.
"By the end of the decade, Guinea has the potential to become a world-class producer of two key ores – bauxite and iron," he enthused, adding that the country is also exploring its endowments of so-called "critical minerals" such as graphite, manganese and cobalt.