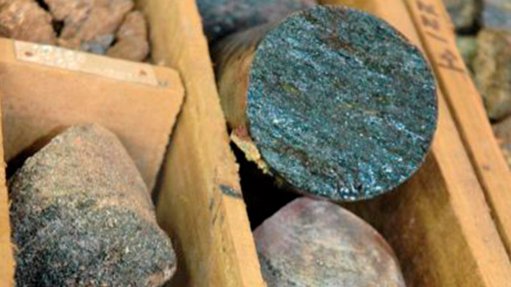 HIGH GRADE SAMPLES The itabirite samples returned high grades with low levels of impurities
Iron-ore company Centaurus Metals announced it has taken the first step towards expanding its direct shipping ore (DSO) business in south‐east Brazil, after securing an option to acquire 100% interest in a portfolio of highly prospective tenements with extensive DSO mineralisation.
The project is located 8 km from its 100%‐owned Candonga DSO project, where first production is on track. The Candonga high‐grade DSO project has a Joint Ore Reserves Committee 2012 ore reserve estimate of 1.2-million tons grading 60.5% iron (Fe).
The new tenement package has been secured under a flexible, low‐cost six‐month option agreement, giving Centaurus Metals the ability to test the mineralisation and full potential of the ground before committing significant funds.
Concurrent with the payment of an initial option fee of A$140 000, the title to all of the granted exploration leases has been transferred to Centaurus Metals. The company can also extend the option twice for up to a total of two years by paying option extension fees totalling A$240 000.
The overall tenement package secured under the option includes four granted exploration leases for a total of 4 051 ha, as well as twelve tenement applications and three tender applications for a total of 11 786 ha.
Initial surface exploration programmes on two of the new exploration leases – known as the Candonga West project – have already confirmed a substantial strike length of DSO mineralisation, providing an attractive exploration target for Centaurus Metals in 2015, and laying the foundations for it to either expand or extend the mine life of its
300 000 t/y Candonga DSO operation.
As part of Centaurus Metals' initial field activities at Candonga West, a number of rock chip samples were collected from the areas where in-situ outcrop and rolled blocks were identified and mapped.
The high-grade itabirite samples returned iron grades between 64% and 70% with low levels of impurities.
Centaurus Metals has established an exploration target for the Candonga West tenements of 3.5-million tons to eight-million tons of high‐grade DSO grading between 64% and 67% Fe, with a further 20-million tons and 40-million tons of itabirite mineralisation grading between 35% and 45% Fe.
The exploration target is based on mapping completed to date of high-grade outcrops and rolled blocks, assays from rock chip samples and the knowledge of the regional mineralisation generated from exploration work undertaken by Centaurus Metals at the Candonga project.
The exploration target quantity and grade is conceptual in nature. There has been insufficient exploration to estimate a mineral resource and it is uncertain if further exploration will result in the estimation of a mineral resource, the company states.
However, Centaurus Metals MD Darren Gordon says he was impressed by the extent of the high‐grade DSO mineralisation already identified at surface on the key tenements at Candonga West, after he recently visited the site.
"We are pleased to have secured this exciting new tenement package, which gives us an outstanding opportunity to expand our DSO mineral resource base in the immediate vicinity of the Candonga Project," he adds.
Gordon continues, saying drilling to test the extensive strike length of high‐grade DSO mineralisation will be a priority for Centaurus Metals in 2015, in parallel with construction activities at Candonga.
"We know from our experience at Candonga that high‐grade DSO operations can deliver strong margins and cash flows for minimal capital outlay – supplying niche iron-ore products that are in high demand in the domestic market," he says.
Gordon notes that this is an attractive business model for companies like Centaurus aiming to make the transition to production in the short term, particularly in the current iron-ore market environment.
"We see this as an attractive bolt‐on growth opportunity to Candonga which could allow us to either extend the life of the initial operation or potentially expand our production base – all for a modest additional capital cost. These are options we will be exploring in the coming months as we move into production at Candonga and begin to test the opportunity at Candonga West with drilling," he says.
Meanwhile, Centaurus Metals also recently started further exploration at Candonga West with an extensive ground magnetic survey as well as ongoing ground mapping. This work is designed to follow up the strong regional airborne magnetic signature and the high‐grade in-situ outcrops identified from the first‐pass ground-mapping programme over the tenure.
As demonstrated by the recently completed Candonga feasibility study, relatively small deposits of high‐grade DSO ore can support the development of low‐cost, high‐margin iron-ore operations supplying the domestic market with low capital cost requirements.
Centaurus Metals notes that high-grade DSO products are in strong demand in the Brazilian domestic market with robust pricing being achieved despite the current market for iron-ore.
The Candonga study confirmed the technical and financial viability of a 300 000 t/y project producing a suite of high‐grade DSO products for Brazil's steel and pig iron industries.
Key highlights of the feasibility study included low forecast mine gate cash operating costs of A$14.9/t from a low preproduction capital cost of A$3.6-million. Centaurus is currently proceeding with the development of Candonga.