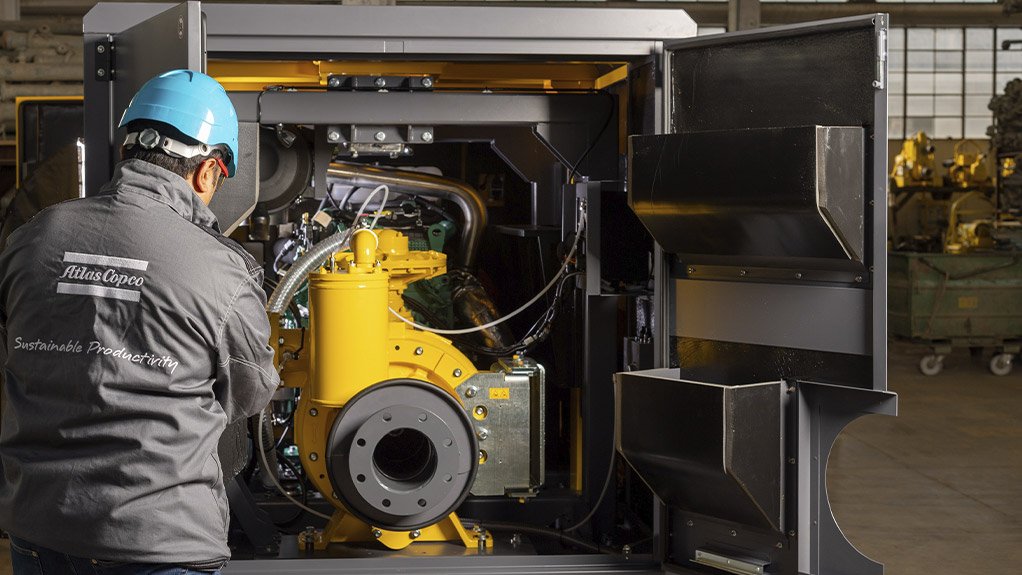 With a patented hinged door now a standard feature of Atlas Copco's PAS and PAC ranges of pumps, a technician can gain access to pump internals within three minutes
A patented hinged door on Atlas Copco's diesel driven dewatering pump sets saves users time and trouble, ensuring there is no longer any excuse to avoid regular inspection and maintenance.
"The simple but brilliant hinged door concept has meant a massive improvement in ease of maintenance for users of these end-suction dewatering units," says Steve du Toit, IPR Product Manager for Atlas Copco. "It reduces the downtime required for inspection and servicing of Atlas Copco's PAS and PAC pumps, as it requires none of the traditional equipment that was normally involved to safely lift and move large pump covers."
An individual technician can now conduct inspections and maintenance on their own – a job that previously required a team with appropriate heavy lifting equipment to open and handle the end-suction cover. Depending on the size of the pump, it would also have required certain certified rigging equipment and a mobile crane or forklift.
"With the hinged door, you need none of these items," explains Du Toit. "The technician simply loosens the bolts on the cover, and swings it open on the hinge – gaining access to the impeller within as little as three minutes."
This makes the feature very useful in applications varying from mining to agriculture. In mining, he highlights the strict safety compliance requirements that make it essential to use the proper lifting equipment for heavy pump end-suction covers. Where pumps are used in the agricultural context, it is often difficult to get the required lifting equipment into the remote locations where pumps may be operating.
"The quick and easy access to the wear plates, the impeller and the mechanical seal is particularly important in applications where the pump is expected to run continuously – where it must not be stopped for any length of time," he says. "The patented hinged door drastically reduces the inspection time, so that it can be returned to work much more quickly."
South Africa's market response to date has been enthusiastic, he says. Perhaps the greatest contribution of the hinged door innovation is that it allows users to check and service pumps regularly – when in the past it was such an arduous task that it was often just avoided.
"Of course, this regular maintenance has a positive long-term impact on the pump's performance, reliability and lifespan," he says. "By facilitating frequent inspection, the hinged door can actually benefit the user by lowering their total cost of ownership by ensuring that they don't have to replace pumps prematurely."