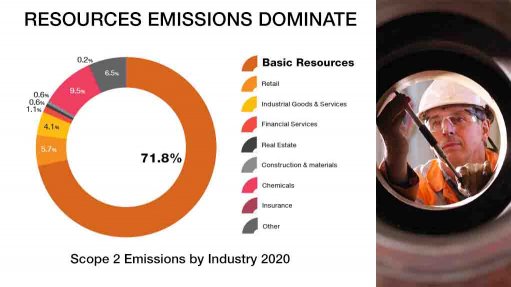 Less than 5% of energy consumed by South African mining in 2020 sourced from renewables.
JOHANNESBURG (miningweekly.com) – South Africa's mining sector will be required to make major investments into alternative and renewable energy sources and energy planning to address the dual challenges of decarbonisation and reliable power supply, PwC said on Tuesday when it launched its 'SA Mine' report, which highlights mining's sterling 2022 financial performance of distributing R190-billion to shareholders, growing capital expenditure by 36% and paying 14% more in taxes.
The statistic that less than 5% of the total energy consumed by South African mining in 2020 was sourced from renewables highlighted the big increase in green energy investment still needed. (Also watch attached Creamer Media video.)
An increased cross-industry capital expenditure commitment bodes well for the overall economy, communities, suppliers, labourers and government and is expected to contribute to increased tax and job opportunities.
Growing demand for commodities in the sector saw record rand prices for the platinum group metals (PGMs) basket, iron-ore, and coal, while most other South African commodity prices remained at relatively high rand levels.
Mining companies found themselves in a very strong financial position, with debt largely paid and returns to shareholders at record rand levels in many instances. The fiscus benefited to the extent that it could support ongoing socioeconomic grants during the pandemic.
However, with higher costs impacted by lower production levels, near-term margin erosion would impact 2023 performance, PwC cautioned.
CLEANER, GREENER MINING
With issues of decarbonising as well as sustainable and reliable power supply directly connected to 81.4% of South Africa's 2021 electricity being coal-fired, investment is required to lower mining's high volume of carbon dioxide (CO2) emissions.
Shown as basic resources on the above graphic, mining in 2020 contributed 7 t out of every 10 t of CO2 emitted, amid South Africa's commitment to decarbonise in line with the United Nations Framework Convention on Climate Change and the Paris Agreement.
Moreover, Minerals Council South Africa has further endorsed this commitment by setting a net-zero-by-2050 target.
The potential to use green electrons to produce green molecules, such as green hydrogen, as is being done by Anglo American at its Mogalakwena PGMs mine in Limpopo, also needs highlighting, Mining Weekly can report.
Investing in sustainable energy would also directly connect companies beneficially to environmental social and governance opportunities, including contributing to the just energy transition through upskilling and community support.
Moreover, remaining globally competitive requires the inclusion of sustainability and circularity across the entire value chain.
Global constraints in supply of green commodities will mean increased prices and investment in supply to enable an aligned just transition pace is needed.
"In South Africa, we stand to benefit from the demand growth, but whether South Africa and other resource-rich countries will benefit to the full extent will depend on their ability to address bottlenecks in supply and mine-to-market infrastructure," PwC Africa Energy, Utilities and Resources leader Andries Rossouw stated.
"There is an obvious need to invest in the right skills, infrastructure, energy and water, and in general, creating an enabling environment for exploration, mine development, production and sales.
"Realising the full potential benefit of our resources and creating long-term sustainable outcomes will depend on our ability to mine cost competitively and to integrate various value chains profitably," Rossouw added.
ECONOMIC CONTEXT, RECOVERY FROM COVID
The South African economy was only 1.4% year-on-year larger in the first half of 2022 as a combination of local and international factors held back the pace of economic growth. These included the international economic and geopolitical fallout of the Ukraine conflict, Covid lockdowns in China, floods in KwaZulu-Natal, and electricity load-shedding.
PwC South Africa Energy, Utilities and Resources assurance leader Sizwe Masondo noted that after dropping by 11% in 2020 on adverse impacts of the global pandemic and associated lockdowns, local mining production increased by 12% in 2021. By mid-2021, mine output volumes were back to pre-pandemic levels.
However, mining activity experienced several challenges in the first half of 2022, resulting in mining output falling by 7% year-on-year in the first six months of the year. These challenges included labour strikes, higher-than-usual rainfall, and disruption to global supply chains. In June 2022, mining production was at around 11% below the comparative monthly average between 2016 and 2019, said PwC South Africa Energy, Utilities and Resources assurance partner Vuyiswa Khutlang noted that remaining available cash resources have left mining companies with interesting capital allocation decisions.
"Strategies will include expansions and new development, acquisitions, strengthening of local infrastructure and host communities, as well as market development and investments up and down the value chain. Execution on these strategies will require disciplined, long-term sustainable mindsets," Khutlang stated.
PwC, with a 60-office presence in 32 African countries, has more than 450 partners and 10 000 professionals across the continent.