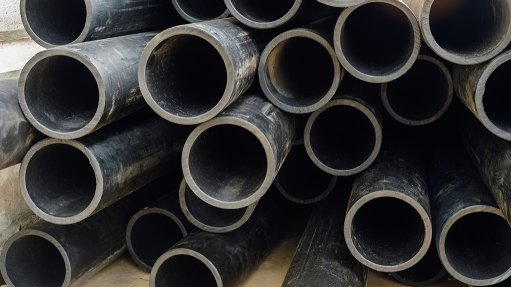 DRASTIC PLASTIC The plastic pipes industry is important for a country's economy because the pipes are necessary for the adequate distribution of fluids
Loadshedding is creating production problems and increasing the cost of scrap, but government's lack of investment in renewing old piping systems and constructing new networks remains one of the biggest problems in the plastic pipes industry, says South African Plastic Pipe Manufacturers Association (Sappma) CEO Jan Venter.
"While reports from the US and Europe indicate an extremely buoyant plastic pipes industry, the South African industry doesnot experience optimal production volumes. "The saving grace for many companies is the lively demand from across our borders."
He adds that the plastic pipes industry is important for a country's economy because the pipes are necessary for the adequate distribution of fluids, such as water, sewage, gas, slurry and fuel.
Hence, reliable infrastructure is important and, because of its cost and disruption during installation, plastic pipes need to be a long-term investment.
"The South African plastic pipes industry is well developed and capable of satisfying the country's needs in this regard," says Venter.
The biggest potential for the industry lies in renewing water, sewage and stormwater networks that have reached the end of their useful life. Venter hopes this will drive investment in modern production technology.
Further, considering that the price of polymer – used in the manufacture of plastic pipes – has increased in the 2022 financial year, Sappma aims to ensure product quality and the long-term viability of plastic pipes.
Venter explains that an increase in cost, with a subsequent decrease in demand, can tempt manufacturers to "cut corners" when using polymer to stay competitive in the market.
Hence, Sappma has established tools, such as its factory audits and strict Code of Conduct, to assist members and ensure full compliance to all relevant product standards.
The association also works with formal certification authorities to ensure that the polymer strength in plastic pipes remains uncompromised.
Despite the increase in the price of polymer, Venter assures that there has not been a significant drop in volume in the plastic pipes market and that the rate at which the polymer price increased is slowing down.
He explains that plastic remains the dominant material for pipes because of its corrosive resistance, hydraulic properties, ease of handling and long design life. The plastic used for pipes is also nontoxic and good for the conveyance of potable water.
Sappma also supplies valid, relevant and up-to-date technical information to the market on an ongoing basis and free of charge.
"We need to take all possible steps to preserve this industry and prevent it slipping down in terms of quality," Venter concludes.