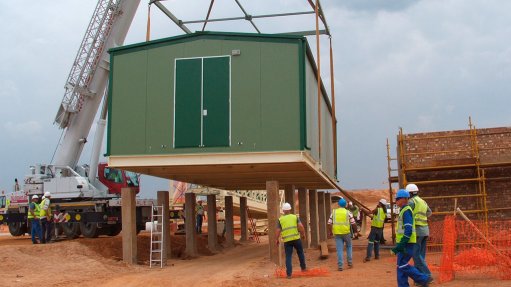 Modular buildings manufacturer Kwikspace is involved in several prospective mining projects in Africa, while the local industry struggles to recover from low commodity prices.
Kwikspace African business development director Nick Alexander tells Mining Weekly that mining companies are currently extending their rental contracts to limit capital expenditure where possible and take advantage of flexible accommodation solutions.
"Our prefabricated rental buildings are an economical and practical solution when accommodation is needed for less than two years or when camp occupancy fluctuates," he states.
The Johannesburg-based company was appointed by a local contractor in 2015 to design, manufacture and erect buildings at the base metals refinery refurbishment project of Zimbabwe platinum-group metals (PGMs) producer Zimplats, which is owned by PGMs miner, refiner and marketer Impala Platinum.
The camp comprises accommodation, canteen and recreation facilities, offices and various other buildings for ablution and sanitation required to make on-site living conditions comfortable for the project staff.
According to Kwikspace, the project will house about 500 Zimplats personnel and contractors and is expected to be completed in March this year.
Kwikspace is also responsible for supplying turnkey mine-site accommodation at coal producer Vale's Moatize coal mine, in the Tete province of Mozambique, accommodating the mine's personnel on a rental basis.
This signature project, the delivery of which was completed last year, forms part of a railway line development that links the coal-rich province and the Nacala port, in the northern part of Mozambique. This project was completed in response to the inadequate export infrastructure at the Port of Beira, as coal from Moatize could only be transported on the 660-km-long Sena railway, which has limited capacity.
The company provided rental units for accommodation, ablution buildings, site offices and diners. Kwikspace also provided the necessary amenities such as power generation, sewage treatment, electrical reticulation, fencing, security and lighting.

"This project was executed throughout the rainy season and, despite the logistical challenges, we were able to complete [it] within the allocated time of a year," says Alexander.
He explains that part of the company's ability to improve its servicing of remote locations is having assembly locations and rental fleets locally in Cape Town, Durban, Klipriver, as well as in Tete and Pemba, both in Mozambique.
"This enables Kwikspace to deliver and service projects efficiently and speedily."
In 2013, ahead of the Nacala railway line construction, Kwikspace was contracted to set up a 750-person camp in Nacala, which included a hospital to accommodate Vale's personnel and contractors working on the railway.
The company trained local labour and contractors to ensure long-term benefits for workers in the region and a reliable supply of contractors for its continued projects in Mozambique.
Alexander notes that, currently, Kwikspace is involved in the ongoing supply of buildings in the platinum mining areas of Rustenburg, in the North West, the coal regions of Witbank and Middelburg, in Mpumalanga, as well as for the iron-ore mines in the Northern Cape.
The company's mining portfolio further includes designing and constructing buildings to accommodate mineworkers and contractors for gold producer AngloGold Ashanti's Sadiola gold mine, in Mali, and the successful installation of three pioneer camps in Simandou, the iron-ore mining area of Guinea.
"We also supplied an extensive range of generators, water treatment plants, a canteen and camp equipment for these projects over the past five years," adds Alexander.
About Kwikspace
Kwikspace was founded in 1972 and has since acquired several companies namely CI Parkhomes, Zozo and Portacamp, among others, to expand its range of building solutions.
The company adheres to the standards of the South African Bureau of Standards and the SANS 10400, which encompass building regulations for all its building designs and has ISO 9001 certification. The company is also in the process of obtaining OSHACT 18000 certification, which pertains to occupational health and safety.