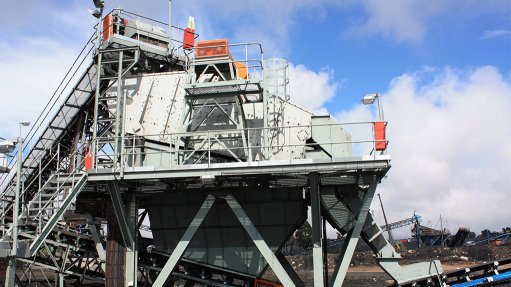 KWATANI SCREEN Major operators with large plants often require large-scale equipment to boost their efficiencies and tonnages
As coal beneficiation is generally a screening-intensive process, screening equipment is an important part of a coal plant and a major investment for the operation, says vibrating and original-equipment manufacturer (OEM) and supplier Kwatani CEO Kim Schoepflin.
The local coal sector comprises various mine operators, from large global operations to small, emerging miners. Schoepflin points out that, owing to this diversity, it is crucial that equipment suppliers understand the needs of individual operators to ensure fit-for-purpose equipment is supplied.
Kwatani has seen a need to supply large and small operators, she adds, noting that the company uses its expertise to assist and develop cost-effective fit-for-purpose solutions for different operations.
"Kwatani can customise a screen to fit the mine's requirement, whether it's a major or a junior and, while Kwatani has been active in the coal sector for 42 years and has a strong reference base across the sector, the company has also made inroads into the junior mining sector in recent years," she comments.
In the coal sector, Kwatani is chosen for three reasons: "We engineer for tonnage, we provide a customised solution and the solution is fit-for-purpose, whether it's for a large- or small-scale mine, whether it's a large or small machine. Further, the equipment is [also] robust and durable."
Schoepflin emphasises that Kwatani's customised solutions can handle the most arduous conditions and, at the same time, are able to improve efficiencies and life cycle costs.
She notes that the company's design teams take the operational life span, the purpose or function of the machine, as well as the application within the coal plant into account when designing fit-for-purpose equipment. She points out that screens and screen requirements can vary significantly for different mines, particularly when it is a major or junior miner.
Major operators with large plants often require large-scale equipment to boost their efficiencies and tonnages. Kwatani is currently supplying the largest number of vibrating screens to a major coal mine in Mpumalanga on a single contract that has recently been awarded.
Junior operators with smaller plants, however, require smaller screens and have different needs. "They often need to generate revenue as quickly as possible, have tight delivery schedules to be able to commission the plant and generate revenue, and they need to make returns almost as soon as they place an order."
However, regardless of the type of mine or type of operator Kwatani supplies, it supplies screens that can fit into any plant footprint as the company is able to retrofit screens to existing buildings or infrastructure, Schoepflin highlights.
She puts forward that the design team visits the sites, analyses the infrastructure and ensures that they model screens in such a way that it not only performs efficiently in terms of its process, but also mechanically, and that it remains cost-effective.
The screens are designed, manufactured and fabricated in-house at Kwatani's Kempton Park facility and this ensures that quality is controlled. The company is ISO 9001:2015 accredited.
Kwatani also offers customised service agreements, as majors and juniors have different needs and criteria. She notes that large plants may need 24/7 service crews, while smaller plants may require services sporadically.
"For example, we offer full-scale multi-year agreements, which would be applicable for major plants, while smaller plants don't require such extensive services; however, they need regular visits and quick turnaround times," she explains.
Moreover, Kwatani is a Level 3 broad-based black economic-empowerment (BBBEE) contributor.
"There are not many OEMs that are compliant and the BBBEE component is something that we continue to invest in and we continue to uphold our status and level, which also benefits the mining companies that use our services," Schoepflin concludes.