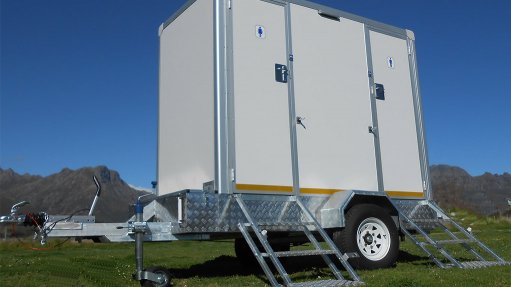 COMPACT UNIT Absolute Ablutions' units cater to the various requirements of the mining industry
Cape Town-based premier mobile ablutions and toilets supplier Absolute Ablutions is offering the mining industry an innovative range of toilets, providing the most effective and affordable sanitation for remote mining sites.
A variety of high-quality toilet units, including basic non-flush, Footflush, recycling and Cleanflush units, with optional variations, form part of the range. Variations include roadworthy and non roadworthy trailers, as well as heavy duty configuration trailers especially adapted for the mining industry. All roadworthy trailers are homologated with the South African Bureau of Standards (SABS) and are National Traffic Information System (NATIS) registered. The toilets are manufactured in Stellenbosch, in the Western Cape.
The heavy-duty and compact VIP toilets are flushing and recycling units that are supplied with tanks to capture waste and require servicing, to remove waste and add fresh water, on average after 500 uses. The recycling system enables the toilet to use the same water repeatedly to flush the toilet for certain periods. The water is pumped through a filtration system into a holding tank, from where the water is fed into the toilets for reflushing.
The heavy-duty units comprise two cubicles strengthened by heavy duty chassis and prop stands. The prop stands support the frame of the unit and prevent it from moving while mineworkers are using it therefore stabilising the unit.
The Cleanflush units use a clean water system, which is chemical free and environmentally friendly. These units have been supplied to diamond, copper and ore mines, and have been customised for use underground.
"The toilet uses fresh water for each flush, but has a unique bowl that enables the unit to use only 500 ml of water per flush," explains Absolute Ablutions marketing manager Alet Byers.
The Footflush nonroad and road units offer low cost and maintenance. Their simplicity and efficiency makes them a popular choice in the mining, agricultural and construction industries, she says. These units run on a conservancy system, with fresh water supplied from an overhead tank.
Key to Absolute Ablutions' offering is providing clients with a wide variety of choice and then tailoring the chosen option to client specifications. All the toilets have a life span of about ten years. Custom-made toilets also ensure that no one else on the market has the same product, Byers says.
Byers explains to Mining Weekly that customising toilet units for underground use has proven difficult, as mining conditions vary. The units used underground have been adapted to use external water and electricity supply, as most of Absolute Ablutions' units are solar-powered and solar panels cannot work underground. Absolute Ablutions adapts its products to be more hardy, with extra-strong chassis, suspension and extra reinforcement in the cab, to client specification.
The toilets were also designed for use in challenging outdoor areas. "Taking into account the high temperatures at mine sites, Absolute Ablutions built the units with free air flow in the cabins, which many portable toilets do not have yet. The airflow contributes to temperature and odour control," Byers explains. She adds that while the company manufactures toilets with air-conditioning installations, the company has not supplied any of these to local mines yet.
"Mobile sanitation often has a very negative stigma attached to it. People think it is unhygienic and are often hesitant to use it," Byers laments, but underscores that the company designs and manufacturers mobile units that are highly sanitary. "The design of the unit makes it possible to operate in a hygienic way," adds Byers.
Absolute Ablutions further delivers an innovative range of products with appropriate hygiene, allowing for users and those who clean and maintain them to do so with dignity. "We take care to ensure that our company does not contribute to this stigma, but the stigma is perpetuated through some companies' not regarding this as a priority," Byers says.
The company supplied its units to global diamond miner De Beers for 15 years, with more recent clients including iron-ore and manganese miner Assmang, platinum miner Anglo American Platinum, mining and oil company and mining group Petra Diamonds, as well as earth moving and site rehabilitation companies.