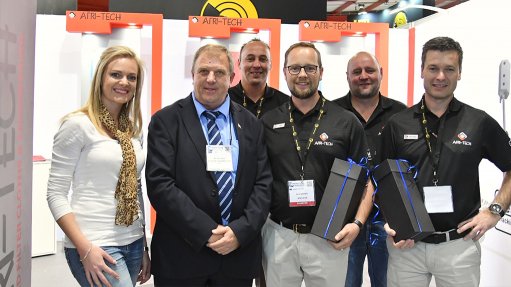 The Afri-Tech team with SACEEC CEO Eric Bruggeman
Photo by: Dylan Slater
The South African Capital Equipment Export Council (SACEEC) awarded South African mining supplier Afri-Tech the overall innovation award and the South African Innovation award at this year's Electra Mining Africa exhibition for the company's locally manufactured forced ejection nozzle.
The nozzle, which is designed for use on foam suppression plants and washing plants, has zero water usage, saving much of the scarce resource. The fully automatic nozzle reduces restarts on mines owing to decreased maintenance requirements, while downtime is virtually eliminated.
The nozzle is suitable for use on most applications, including gold, platinum and coal mining and has been successfully tested at several of South Africa's largest gold and platinum mines.
Afri-Tech operations manager Gus Basson was overwhelmed at receiving two accolades. "I'm lost for words," he exclaimed. "I thought we had a good chance of winning, but with so many great products and ideas being showcased at the show, I was wondering if we'd done enough. Obviously, we have and I'm really pleased with the outcome," he said.
So impressed was independent adjudicator SACEEC CEO Eric Bruggeman with Afri-Tech's innovation, he also awarded the local manufacturer the opportunity to showcase its product at next year's Local Manufacturing Expo, taking place in May 2019 at the Nasrec Expo Centre in Johannesburg.
This year's Innovation Awards covered three categories: South African Innovator, International Innovator: Mechanical and International Innovator: Electronic.
Canadian independent tyre dealer Kal Tire won the award for the International Innovator in the mechanical section with its Gravity Assist System. The system's mechanical arm allows technicians to weightlessly, precisely and safely manoeuver tools and parts on mines, changing the way earthmover tyre technicians do their job. It eliminates pinched fingers, muscle strain and repetitive task muscle disorders as well as fatigue, thereby improving efficiency, precision and safety.
Instead of fastening nearly 70 lug nuts by holding an enormous torque gun, the Gravity Assist System acts like a mechanical arm to hold and swivel the torque gun almost as a weightless extension of a technician's body.
Kal Tire senior VP for the mining tyre group Dan Allan expressed delight at winning the award, saying he was pleasantly surprised at the win. "Kal Tire has invested in innovation by developing exclusive tyre related products to improve safety, efficiency and productivity. We are proud to have this innovation recognized," he said.
Industrial automation equipment supplier Beckhoff Automation won the International Innovation: Electronics award for its EtherCAT system. Beckhoff implements open automation systems based on personal computer (PC) control technology with a product range that covers Industrial PCs, I/O and fieldbus components, drive technology and automation software.
Beckhoff Automation SSA MD Kenneth McPherson said it was an unexpected win and he was delighted at the recognition for the company.