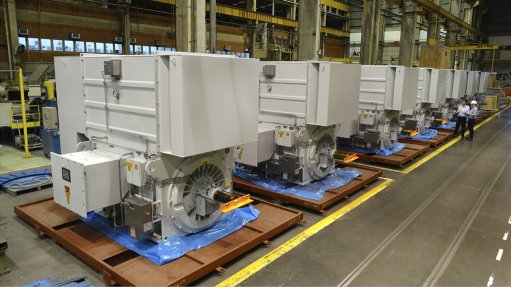 SOLUTIONS A-PLENTY Zest WEG can supply the end-user with a base or adapter plate that fits onto the base and will fit onto the new motor
Integrating technological innovation into mining industry practices can result in reduced costs, increased productivity and improved worker safety.
However, it also presents an unexpected challenge, as replacement motors, in particular, are now bought as smaller iterations, and often do not fit in the original infrastructure, says electrical products supplier Zest WEG high-voltage motors sales specialist Floris Erasmus.
This often happens, as the motors "are easily between 20 and 30 years old" and, thus, bought at a time when technology "wasn't as advanced", he tells Mining Weekly.
As a result of improving technological innovations, motors are becoming smaller in size while continuing to provide the same kilowatt output.
This, Erasmus says, creates a problem when heavy-duty industry end-users, such as the mining, power utilities, and oil and gas industries, want to buy newer and better motors for their operations, but are faced with an excessive amount of space left in the original motor's infrastructure.
This extra space is a concern in that the smaller motors are often not able to be connected to the manufacturing or operating system, as the original cables were covered with concrete and cannot be moved.
"With the motor being smaller, the terminal box, for example, is moving away from where the original motor's terminal box was. The physical dimensions, where the motor bolts down on to the base, are also smaller, and continue to be smaller."
While replacing the original base is not an easy or cost-effective endeavour, as civil works and civil engineers would need to be employed, Erasmus says Zest WEG's offering has the solution.
The company can supply the end-user with a base or adapter plate that fits on to the base of the new motor.
While end-users cannot do much in terms of preventing this challenge in future amid technology's continuous evolvement, Erasmus advises that, to plan ahead, "customers just need to realise it can become an issue, and they need to keep in mind that they may be faced with this problem in another 20 years".
Erasmus notes that, "first and foremost", a site visit and assessment are required, which will enable a consultant to identify any space constraints where the new motor will be fitted. This is key, as Zest WEG will then design a motor according to the available physical dimensions, he adds.
Zest WEG offers the motor, as well as an option of either an adapter plate or bigger terminal box, depending on requirements.
While end-users will be required to pay an additional fee for the options, Erasmus says the cost is minimal, compared with that of the motor. He urges end-users to consider this minimal cost as a "long-term investment" for the motor's best performance during its life span.