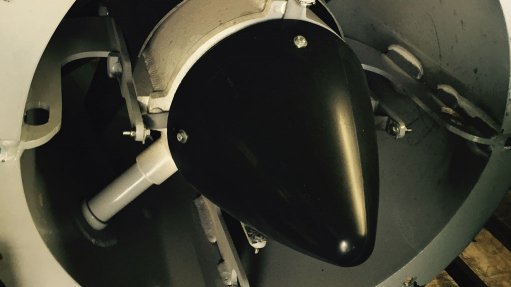 MECHCAL JET FAN Jet Fans have been designed by using computational fluid dynamics with specific reference to total pressure air entrainment, giving it superior distance/velocity ratio at lower input costs
Like most products used in mining operations, industrial fans manufacturer MechCaL says ventilation fans require ongoing maintenance to ensure that day-to-day mining operations continue as normal.
In line with this, MechCaL launched a dedicated maintenance and repair division as part of its current focus on establishing repairs agreements with its existing clients.
"The repair contracts that we are offering our clients would involve all supplied MechCaL fans being collected from site by the company and repaired at our in-house facility. These repairs would be carried out at an affordable cost to the client or under warranty, if applicable," MechCaL operations director Michael Minges explains.
The warranty offered by Pretoria-based MechCaL on its fans can vary slightly, depending on the client and the final application of the fan.
Minges notes that initially MechCaL offered 12 months' mechanical warranties on all fans but this was later extended to 18 months when it became apparent that the fans' durability in the field is longer.
Further, Minges emphasises that the company currently has close to 1 700 fans installed in the market, with its fans lasting longer than the solutions supplied by its competitors.
"Since 2011, only 14% to 15% of our fans in the market have come in for repair over the last five years, which equates to 2% to 3% a year on average. This is a small number when compared with the repairs and maintenance needed on fans supplied by competitors – which is in the region of 20% to 30% a year according to the various mining houses we supply," comments Minges.
He notes that, these numbers reduce the repairs budget for mines considerably as quality and not quantity is the deciding factor.
Minges highlights that quality in the initial product selected and installed for ventilation applications should be a high priority consideration for mines, adding that this is owing to the harsh and abrasive conditions in which many of these fans operate.
"Looking at the nature of the mining business, it goes without saying that fans will be damaged at some point underground, either when the fan is being taken underground for installation, during operation or when it is being removed and brought back to the surface for repairs."
Further, he says, when it comes to cleaner air applications such as fans that are only responsible for ventilation and far from any blasting, fans are more likely to last longer. "But once again, this comes back to installation of high-quality products manufactured from materials handpicked to survive mining conditions and used in technologically advanced designs.
"We, generally, do not have much control over where the client will ultimately choose to install fans and, so, all that we can do is ensure that we provide a high-quality and long-lasting product made to weather these conditions," Minges comments.
Noting that constant innovation remains vital in the development of efficient and long-lasting fans, he explains that, along with the importance of initially choosing a product of high quality, additional considerations for mines include ensuring the quality of repairs – for example, receiving a product that functions well post repair – and partnering with a maintenance provider that can offer a quick turnaround to ensure that operations are not affected.
Minges points out that for MechCaL, the most critical aspect of all repairs carried out on company fans is for mines to receive a repaired fan that functions as it did when it was first installed, in the least amount of time possible.
Minges highlights that MechCaL is able to offer, if required, a mere one- to two-day turnaround on repairs, using consignment stock.
"Should a fan fail, the client can immediately send it in for repairs and replace it with a fan from this consignment stock to ensure minimal downtime. This will remarkably lower the industry standard repair time of between 15 and 20 days."
Additional to these considerations is cost, which he says is also a major concern in the current cash-strapped mining industry.
Minges stresses that it is important that clients see value for money and, by working closely with them throughout the costing process, the company is able to conduct all maintenance services within a client's budget.
"We need to drive the industry to treat fans as an operational asset and not a consumable, as it will always be worthwhile to refurbish fans instead of scrapping them," he says.
Fan Maintenance Benefits
Once a fan arrives at MechCaL, the motor is inspected to ascertain whether it needs a standard repair or to be rewound if the winding has burnt through.
According, to Minges, MechCaL's motors come with a two-year warranty from the original-equipment manufacturer (OEM) and all motors coming in for repairs are sent to the OEM for inspection and standard repairs at a minimum.
"So far though, we have seen a very low number of motors needing to be repaired under warranty. Most of the time we carry out standard repairs. Rewinding of motors has also been very low; only 1.5% of repaired motors have been rewound."
Further, Minges puts forward that, once a motor has undergone the necessary repairs, MechCaL performs numerous checks on a fan's mechanical parts, such as the propeller and stator, which can generally be refurbished before being placed back into the fan.
He adds that, as the impeller used on MechCaL's fans is manufactured without welding, the company can also replace fan blades as needed, leading to cost savings, as impeller replacement is hardly ever needed.
Thereafter, the repairs process is concluded with a performance test to ensure that the fan still meets the required performance criteria.
"Following satisfactory performance test results, in the only Type-D ISO 5801 independently verified test duct in sub-Saharan Africa, the fan is then returned to the client," concludes Minges.