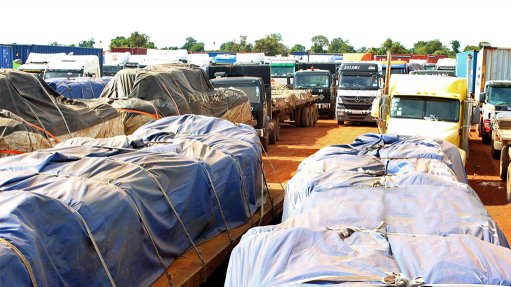 TRUCKS QUEUE Long wait times at borders cause delays that often last for days
The value of minerals available in the Democratic Republic of Congo (DRC) is overshadowed by ailing infrastructure such as roads and reliable Internet networks. These challenges make it difficult for mining companies, and companies that support the mining industry, to import and export supplies, says reagents expert Axis House.
Investment in the DRC mining sector as well as exports remain the key drivers of growth, as it has more than 1 100 minerals and precious metals, comments Axis House logistics manager Tshego Komane, adding that the country is unable to leverage its mineral potential because hauling products by road into the DRC presents a multitude of challenges.
Kasumbalesa, in the Haut-Katanga province, serves as a "one-stop border post" and is the busiest border, linking Zambia and the DRC.
The border leads to Whiskey checkpoint, where about 80% of the country's customs clearance occurs; however, near constant Internet connectivity disruptions lead to continuous delays in the issuance of clearance documentation.
"The Kasumbalesa border post has, for the past year, conducted ongoing extensions to the truck parking areas, which has made it very difficult for an 18-m superlink to manoeuvre, which, in turn, has led to entry and exit congestion into various parking lots, often adding a day to transit time," adds Komane.
There is also minimal to no security for drivers and their loads in most parking lots, which often results in drivers being robbed.
Komane states that it is not feasible to use other border posts – such as the Sakania post or Mokambo post, both in Haut-Katanga province – because most mines do not have the authority to clear customs at these border posts or clearing agents at posts other than Kasumbalesa.
Deteriorating road conditions further contribute to delays when trying to reach the DRC, as roads in Zambia have little to no maintenance, consequently increasing the risk of accidents and, thus, downtime for repairs.
"These delays have had the biggest impact on trade, and this is evident when comparing turnaround or roundtrip transit times – we now average 64 days for transit as opposed to 40 days in 2014," avers Komane.
However, through strategic stockholding closer to the market, and constant communication with clients and service providers, Axis House can minimise delays markedly.
The company uses daily schedules that reflect which products and chemicals, as well as quantities, are being transported on the roads en route to mine sites. It also pre-advises notices of arrival to clearing agents, and notifies clients and agents once trucks arrive at the Kasumbalesa entry border.
As the company expanded its market share in the DRC, and throughout the Copperbelt, it progressed quickly from providing supply chain solutions to building a fully integrated laboratory, enabling it to identify problems and provide solutions, says Komane.

Axis House strategically holds stock closer to the market in Ndola, in the Copperbelt province, to ensure constant and accelerated supply to service the DRC market.
The company has also partnered with Axis Mining as an onshore agent for imports into the DRC to comply with recent regulations.
"Our incredible logistics capabilities, on-site technical support, full metallurgical laboratory and plant trial support, as well as the continuous optimisation of reagents to ensure maximum profitability, have all contributed to a strong ongoing relationship with clients across the DRC for over 20 years," Komane concludes.