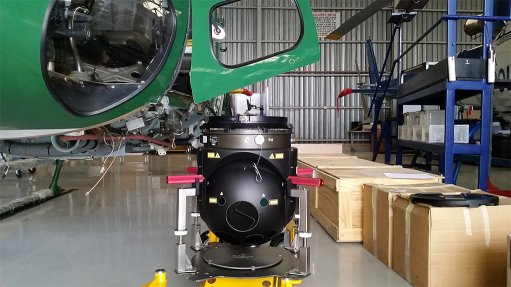 GLOBAL SIGHTS SET Similar to the local automotive industry that is manufacturing for European countries, so must there be opportunities to manufacture aircraft under licence for foreign companies
South Africa's economy is hanging by a thread and this has presented massive challenges for the local aerospace industry, says aircraft design organisation Aerodesigns Africa director Murray Spoelstra.
The South African Civil Aviation Authority- (SACAA-) approved company's primary function is to implement design changes to aircraft. Aerodesigns assists clients in properly mounting and integrating equipment with other aircraft systems to obtain certification approval.
"The type of services we offer in this field are diverse, as we have done work in terms of geophysical exploration, law enforcement, engine changes, avionic upgrades and long-range fuel systems, as well as the interior of private jets, to name a few."
However, Spoelstra says ominous signs for the country's aerospace industry are evident in the lack of aerospace jobs being advertised compared with other countries where there is a lot of activity in the military and commercial sectors.
"We have had to significantly reduce our overhead costs, consequently making it difficult for us to employ as many full-time employees as we would like to, for example. Rather, we have a list of about a dozen specialists that we subcontract in accordance with the requirements of each project," he tells Engineering News.
Further, during periods such as these, when there is not much work, Aerodesigns focuses on improving its software simulations, as well as building Internet of Things electronic devices, drones and mobile applications, which are gaining traction in industry.
Spoelstra advances that the company has also been assessing the potential of developing electric aircraft, "since that is certainly where the technological innovation focus is currently".
"Although we have a black-economic- empowerment-compliant local battery manufacturer that is keen to support the project, it has proven difficult to secure funding for initial development work."
He notes that while transformation has happened at government and State-owned enterprises level, the reality for companies operating in the private sector is that they must be able to deliver value for money to the client. Therefore, the focus should rather be on job creation and skills development.
"The funds should come from not only government but also black-owned businesses that have benefited from government policies. Similar to the local automotive industry that is manufacturing for European countries, so must there be opportunities to manufacture aircraft under licence for foreign companies. Many successful aviation companies started this way before developing their own products," Spoelstra argues.
He also notes that while regulations in the aviation industry have been standardised on a global scale to a large extent, the vast majority of people who have had to deal with the certification department of the SACAA in the past ten years have, unfortunately, had negative experiences.
Spoelstra says this has had a "tremendous impact on the industry, as companies left the country, owing to the drawn-out local certification process" .
For example, overregulation globally has pushed the costs of aircraft development to unreasonably high levels and that is why the new Federal Aviation Regulations Part 23 design standards have been drastically simplified, he highlights.
The problem, however, seems to be the interpretation of the regulations.
"We sit with a situation where someone in the US can substantiate a modification on two pages and obtain approval in two days, but in South Africa, we need to comply with a rigid checklist, compile six or more documents and hope to get approval in two months for the same design change," he explains.
Although the SACAA talks about stimulating growth in the industry, Spoelstra advances that there are talented, hardworking people who are committed to improving the industry.
"The general consensus seems to be that there is a serious lack of judgement and lack of accountability that will need to be overcome before the situation can improve," he concludes.