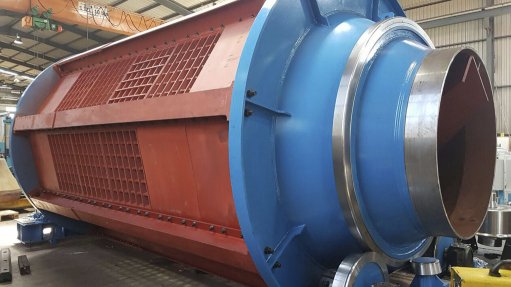 BREAKING THROUGH Junior miners prefer semimobile equipment, such as the Bradford Breaker, owing to its low capital cost and ease of transport
Automation technology for mineral processing has become an indispensable element of productivity, owing to the role it plays in improving quality, reducing cost and labour intensity, as well as decreasing energy and raw material consumption, says integrated solutions provider Takraf Africa, based in Kempton Park, Gauteng.
However, Takraf Africa engineered technologies GM Richard Späth says there is pressure on mineral processing plants to continually implement advancements in automation to curb the increasing challenges facing the industry.
These challenges are a result of negative economic conditions and pressure from environmental and legislative bodies to reduce the sector's environmental footprint, the increasing scarcity of resources, such as water and energy, orebodies being more difficult to access, lower ore grades and mineralogies becoming more complex to process.
"This means that, for example, the mining industry is experiencing strong demand for faster, cheaper and more efficient separators, and there is an increased interest in technologies that can sort rock to achieve early gangue rejection," Späth avers.
He adds that there is also strong interest in the selective recovery and preconcentration through gravity separation and flotation of coarse particles before material enters the grinding mill, which will also reduce energy and water consumption, making it easier to dispose of mine waste.
The drive in the industry to adopt more efficient and environment-friendly technologies is encouraging the development of new, clean and resource-efficient mineral processing routes and technologies. For example, obtaining metals from low-grade mineral resources is possible using microbiological leaching processes, which cannot be handled using conventional techniques.
"Although bioleaching is being used only for the recovery of copper, uranium and gold, it could become important for zinc, nickel, cobalt and molybdenum recovery."
Further, Späth says mining companies are now focused on ore-characterisation programmes with mineralogical analyses to determine the variance of the orebody pertaining to metallurgy and process mineralogy.
"Understanding the daily interaction of mineralogy, chemistry, metallurgy and plant efficiency using automated analysis systems is important to ensure optimal circuit operation, which, in turn, ensures easier maintenance and the identification of issues before they materialise."
Additionally, Späth highlights that, with the "low-hanging fruit" being gone and more complex, lower-grade orebodies are not as accommodating in terms of metallurgical mistakes. Tight analytical control and forecasting of ore feeds are required, as even minor mineralogical changes in the feed can significantly affect cost in all the stages of mineral processing.
Sizing Up
Takraf Africa – part of the global Tenova Takraf group – saw a need to add sizer equipment to its product portfolio to integrate its own crushing machines into a complete mining solution for clients.
Following the global launch of Takraf's primary and secondary sizer range at the bauma trade fair, in Munich, Germany, in April 2016, Takraf Africa
launched its sizer equipment at Electra Mining in September 2016, but started actively marketing the range in January.
The sizer equipment range includes standardised primary and secondary sizers, with both ranges suitable for the comminution of material, from standard to most challenging. The sizers handle soft and medium hardness material with a compressive strength of up to 200 MPa.
"Integrated and complete mining solutions optimise the interface between the various processes, resulting in improved efficiency of the overall mining or processing activity," Späth points out.
Additionally, given the capital constraints faced by mining operations and the need to increase productivity levels, clients are looking for equipment that offers ease of maintenance, reduced downtime and a long service life.
A key differentiator of Takraf's sizers is their focus on attributes, such as ease of maintenance, reduced downtime and a longer equipment service life, during initial development. As a result, Takraf says its machines offer unparalleled levels of maintenance efficiency and service life. Some of the novel solutions adopted include the quick and easy changing of crushing segments and the use of advanced wear-resistant materials such as hard-faced segments and tungsten picks. Other new solutions include an inching drive for roll maintenance, which increases safety significantly, a heavy-duty drivetrain system and the adoption of an efficient oil lubrication system for greater environmental sustainability. T
he equipment also boasts a compact design, high throughput performance – up to 10 000 t/h for the primary sizers and 3 500 t/h for the secondary sizers – and a high standardisation level of components, which also contributes to ease of maintenance.
Supporting this range of equipment is Takraf Africa's in-house minerals laboratory.
"Rock fragmentation and abrasion are critical elements pertaining to material characterisation and the facility conducts material tests across various conditions to determine factors, such as material crushability and wear behaviour, which are important in sizer selection," Späth avers.
The laboratory can also determine customised wear predictions of the crushing tools, he concludes.