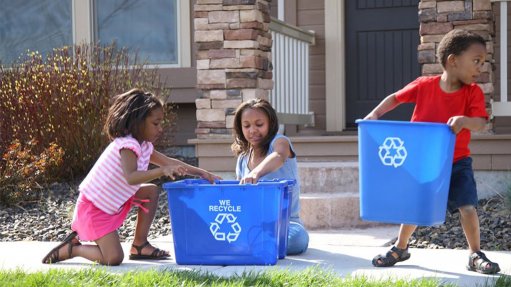 PLASTIC STATS In 2018, 46.3% of all plastics placed on the market was collected for recycling in South Africa, with 352 000 t of plastics recycled
South African plastics industry representative Plastics SA along with industry body Packaging SA and producer responsibility organisations (PROs) of various packaging waste streams submitted guidelines to government last month following the publication of draft Extended Producer Responsibility (EPR) regulations and notices under Section 18 of the National Environmental Management Act.
"The idea is to make it mandatory for all producers of packaging waste to belong to a PRO and that funding will be used to develop recycling to ensure that we redesign and rethink products, thereby reducing the impact on the environment," Plastics SA executive director Anton Hanekom tells Engineering News.
The development of the guidelines involved the collaboration of seven PROs, all dealing with different waste streams and, therefore, required a common approach, although Hanekom notes that there will always be variances regarding specific material strategy and focus.
The Department of Environment, Forestry and Fisheries (DEFF) published the draft EPR regulations and notices for public comment at the end of June.
Hanekom emphasises that the challenge for Plastics SA is reducing plastic waste leakage and ending waste in the environment, and he expects the EPR to assist, as it will set specific targets for the collection and recycling of material.
"However, we need infrastructure to be in place to achieve these targets."
Over the past ten years, the conversion of virgin material tonnages has grown by about 21%, while the conversion of recycled material tonnages has increased by about 61%.
There were about 330 recycling facilities and 58 500 informal collectors in South Africa, with almost R2.3-billion injected into the economy at the primary sourcing level in 2018.
That year, 46.3% of all plastics placed on the market was collected for recycling in South Africa, with 352 000 t of plastics recycled.
Removing Waste
Plastics SA is working extensively to remove plastics waste from the environment through its South African Initiative to End Plastic Pollution, says Hanekom.
The initiative was started last year as a collaborative multi-stakeholder forum and involves members of the extended packaging value chain, which includes raw material producers, brand owners, retailers, manufacturers, distributors and recyclers.
The forum includes six working groups covering infrastructure, technology and innovation, bioplastics, education and awareness, the integration of the informal sector, and standards and compliance.
During the hard lockdown, the initiative has developed business plans for projects, which can be used as blueprints in future, involving communities, local municipalities, waste management companies and environmental networks.
The six working groups will focus their attention on specific projects in communities to see how these can be supported.
This support could potentially include a technology hub, involving the establishment of infrastructure, whereby plastic waste is collected and transported to a central location to be sorted for recycling. Valuable waste, such as PET, paper, glass and cans, will be sold, while the rest of the waste will be processed on site to produce solutions that meet the needs of the community.
Don't Ban Plastics
Although plastic is a by-product of the petrochemicals industry, when analysing the carbon footprint and life cycle of plastic, it remains one of the better products for the environment, provided that it is reused or recycled, says Hanekom.
He warns that replacing plastics with other materials could result in waste that has a much higher carbon footprint.
"Part of the problem is that South Africa does not have adequate waste management services and infrastructure. If plastic products are replaced by an alternative material, this still needs to be collected. Without doing so, you won't add value and solve the problem associated with the use of plastic bags – you will just create a new one."
Whether the alternative material is produced locally or imported also needs to be questioned, as importing it adds to the carbon footprint of the substitute and far outweighs the carbon footprint of locally produced plastics.
For example, using paper straws instead of plastic ones in South Africa has required these products to be imported from the East, as the country does not have the factories or raw material to produce them locally.
"We are exporting jobs and businesses if we continue doing so," stresses Hanekom.
Further supporting his sentiment are the recent findings released by the Council for Scientific and Industrial Research (CSIR), which confirmed that reusable plastic shopping bags have the lowest environmental footprint, compared with carrier bags made from alternative materials.
The CSIR study, the results of which were released in May, focused primarily on testing South Africa's plastic carrier bags, assessing sixteen different types, including the standard single-use, 24 μm high-density polyethylene bags, as well as numerous reusable and biodegradable alternatives.