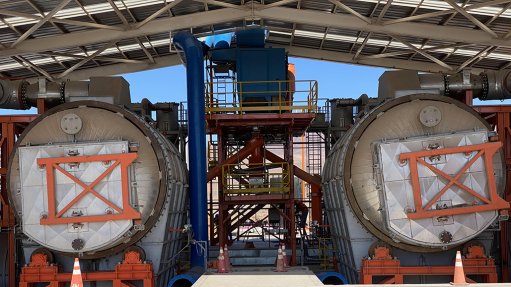 RECYCLING FACILITY The facility puts stockpiles of end-of-life mining tyres through Kal Tire's thermal conversion process, and returns the resulting products back into the global economy
The main theme of the Investing in African Mining Indaba – to be held at the Cape Town International Convention Centre from May 9 to 12 – is environmental, social and governance (ESG), which resonates with the services and support mining tyre supplier Kal Tire provides to customers.
The company assists customers in achieving their ESG targets, states Kal Tire's Mining Tire Group VP Southern Africa, John Martin.
"The mining industry has embraced ESG. Kal Tire's presence at the Indaba is to articulate and demonstrate its ability to contribute to and enhance our customers' ESG journey. "Our primary philosophy and strategy align with the United Nations' definition of sustainability, which is to repair, reuse and share."
Martin emphasises that innovation in new products and services is a key component of the company's working culture.
"The tyre products we align our company with are intended to reduce the total cost of ownership for our customers. Kal Tire's alignment, on an international scale, with tyre manufacturer MAXAM TIRE's product, supports our ESG objectives, as it runs at the lowest cost per hour in just about every application tested to date."
All the innovations in which Kal Tire has invested have resulted in an improvement in safety and operational efficiency, as well as a reduction in unnecessary waste, adds Martin.
He highlights recent innovations such as the fully functional off-the-road (OTR) tyre recycling facility in Antofagasta, Chile; a mobile OTR rim scanning system; and Kal Tire's Maple Programme for the certified savings in carbon emissions when using Kal Tire's OTR ultra repair technology.
Recycling
Martin stresses the importance of tyre recycling, which is an environmental challenge, particularly when trying to do so in an ethical and environmentally acceptable manner.
"For mining, growing stockpiles of end-of-life mining tyres that typically weigh
4 000 kg to 4 500 kg a tyre has become an environmental headache. "A solution to reduce these stockpiles by recycling tyres in a sustainable and ethical manner is desperately needed."
He adds that the essence of the circular economy is to reduce waste and create sustainable economic growth, and that the OTR tyre recycling plant, in Chile, contributes to this goal.
The facility puts stockpiles of end-of-life mining tyres through Kal Tire's thermal conversion process, and returns the resulting products back into the global economy, he elaborates.
All the tyre products from the plant can also be repurposed into new goods and products, where the recycled carbon black could potentially be used to manufacture new tyres.
The plant is modular in design and can, therefore, be constructed anywhere in the world.
It can also be constructed with a range of recycling capacities, from 3 500 t/y to more than 20 000 t/y, and is designed to accommodate all tyres and put them through a pyrolysis process.
Martin argues that this type of facility and the company's thermal conversion solution would be beneficial for African mining, as there is currently no meaningful solution there for the sustainable abatement of end-of-life tyres.
"Unlike Chile, where clear legislation exists that relates specifically to tyre abatement responsibilities, no such legislation exists in any African countries right now. "Miners are mostly being driven by their ESG commitments and social conscience, and are looking into tyre recycling mechanisms to address this growing problem of wasting OTR tyres. "This recycling plant could be replicated anywhere in Africa."
If African countries were to use a plant such as the one in Chile, the continent could become a major producer and net exporter of recycled carbon black – a mixture of carbonaceous deposits and oils absorbed during the pyrolysis process – gained from tyres, he argues.
The OTR plant is designed to meet the world's highest safety and environmental standards, and should easily pass the scrutiny of local safety and environmental compliance laws, says Martin.
Kai Tire in Africa
Martin explains that the current commodity boom is a key driver of investment in new mining operations, which the company is looking to capitalise on through on-site services and product supply that will form the bulk of the company's planned growth and opportunities.
Kal Tire aims to introduce several innovations that will complement and enhance its existing scope of services, consequently enabling the company to expand its service footprint, and elevate the level and quality of its current services business.
The company's extensive branch network, with a significant presence in all mining geographies in Southern Africa, will also assist Kal Tire in expanding its footprint.
Kal Tire's existing skills and technical capacity, as well as the strategic positioning of its expanded services, will be leveraged to provide a cradle-to-grave service for customers.
"Kal Tire will look to continue with the promotion and positioning of its brand to the African mining industry. "As the leading mining tyre services company in Africa, we will use the opportunity to attend the Mining Indaba as a means of showcasing our ability to support and add value to our customer base, in a far wider spectrum than merely tyre services," he concludes.