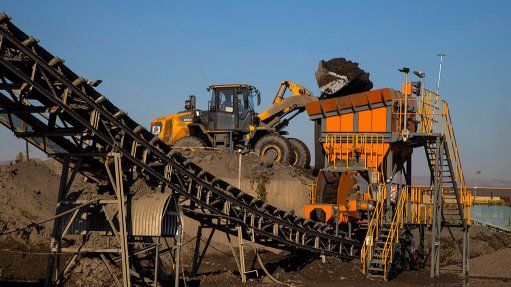 UPPING OUTPUT Jubliee's Inyoni mine has exceeded operational output predictions after its expansion
Aim-listed metals processing company Jubilee Metals Group's Inyoni platinum group metals (PGMs) processing facility, in Gauteng, has successfully increased its operational output, subsequent to the completion of its capitalisation and expansion programme in March.
This is based on Inyoni's exceeding design throughput targets and reaching 86 000 t a month of chrome and PGMs-containing run-of-mine (RoM) feed.
Additionally, 40 000 t of PGMs-containing historical tailings material have been extracted, placing Jubilee on course to achieve its PGMs ounce production target of 44 000 oz/y through Inyoni alone.
A Regulatory News Service article published in May noted that Inyoni's previous maximum design capacity was 30 000 oz/y.
"The company continues to benefit from the increased operational footprint and improved efficiencies delivered from the project," says Jubilee CEO Leon Coetzer.
The project entailed the implementation of new physical separation techniques to classify the materials according to their specific kinetic response to the recovery process and separating them to treat every PGMs unit in a dedicated recovery circuit.
The key technologies enable the plant to simultaneously process a variety of feed materials sourced from different chrome and PGM reefs, he adds.
The previous period's production included the output from a joint venture partner's operation.
"However, we have now set ourselves the target to fully absorb the production output into the expanded new Inyoni operations."
Coetzer says the Jubilee team has continued "to be bold" in its plans to expand and optimise the South African and Zambian operations.
"Jubilee's confident, but prudent approach to the deployment of its R815-million investment programme has already resulted in the delivery of significant results for the group."
He enthuses that many of the core technology concepts implemented at the new Inyoni operations are transferable to not only its other chrome operations but also certain of its Zambian copper operations.
This is being done to increase operational flexibility to process a wider variety of feed materials often discarded by the industry.
The company has increased its chrome ore beneficiation capacity significantly to more than 220 000 t a month – up from about 140 000 t a month – of RoM feed and tailings.
The increase in ore beneficiation will enable the company to sharply increase its production of chrome concentrates, which is key to Jubilee's stated target to produce 1.2-million tons of chrome concentrate a year.
Inyoni delivered 8 018 oz of PGMs in the first quarter of calendar 2022, an increase of 75%, compared with Inyoni's average production rate of the previous two quarters, despite refilling the operational pipeline after startup.
On a chrome by-product credits basis, Jubilee's net cost to produce an ounce of PGMs during the first quarter of calendar 2022 was R7390/oz and, when excluding transport costs, R3 382/oz.
However, Coetzer states that the transport costs will be reduced significantly once the company's Eastern Limb expansion strategy, aimed at establishing a PGMs processing footprint in the area, is successfully implemented.
"I am extremely proud of the group's performance over the past 12 months, which is testament to the dedication and innovation of our operational teams," Coetzer says in the group's inaugural Integrated Report, released in June.
He notes in the report that despite the issues faced over the past two years, including intense and prolonged supply chain disruptions, mostly owing to Covid-19, the Jubilee team rose to the challenge and has delivered on its objectives on schedule, and within budget.
Further, Jubilee has successfully maintained its zero-fatality rating with a lost-time injury frequency rate – calculated over a million hours worked – of 1.5 in South Africa and 2.9 in Zambia.
Coetzer says the group is very pleased with the outcome and performance of its new PGM operations, which will not detract from its continuously striving to improve and unlock further opportunities in reefs and materials overlooked by the industry.
He takes pride in the solution's offering the company a chance to cleanup environmental liabilities, such as tailings deposits, while treating third-party mine feed that would ordinarily be headed to a waste dump.
"This has indeed been a transformative year for Jubilee and a strong growth platform has been created, with exciting projects in both countries for us to pursue," he concluded.