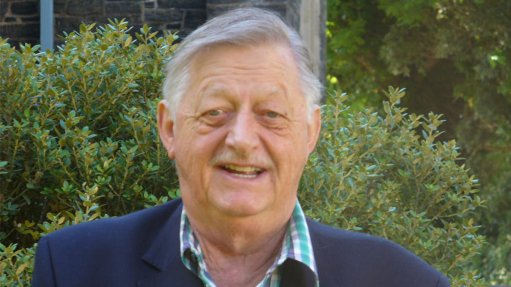 Independent precious metal consultant Dr David Davis
As efforts to reduce the impact of global warming and climate change ramp up, South Africa is set to lose out on critical platinum group metals (PGMs) production as a result of increasing electricity disruptions and load-shedding, independent precious metals consultant Dr David Davis says.
Demand for PGMs is all about climate change and the drive for net zero emissions by 2050, he states in a report titled 'Platinum – The Impact of South Africa's Energy Crisis on PGM Mine Supply'.
PGMs have been increasingly taken up by the automotive industry, which has introduced new types of drivetrains for vehicles, with a move away from vehicles using internal combustion engines, to electric vehicles (EVs) – battery and hybrid EVs and fuel cell EVs (FCEVs) – to meet new emission standards.
Davis says new emissions standards translate into higher autocatalyst PGM loadings, as well as accelerated demand for FCEVs that contain platinum, mainly for heavy-duty vehicles.
In addition, he says polymer electrolyte membrane electrolysers, which also contain platinum, are currently seen as the most cost-efficient way to produce green hydrogen from renewable power as they are able to withstand the intermittency of renewable-derived electricity generation.
DEMAND & SUPPLY
Davis explains that the progressive tightening of environmental regulations and technology innovation surrounding the production of green hydrogen has led to an increase in PGMs demand.
"My calculations imply that global PGM demand will likely grow at a [compound yearly] rate of [about] 3.5% to 2027," he says.
In this regard, Davis says his estimates are not too dissimilar from GlobalData's estimates.
"Global PGM mine supply will most likely remain roughly constant with an average PGM demand of [about] 13-million ounces, with a recognisable downward trend starting around 2031. Under these circumstances, I am of the view that PGM demand will increasingly outstrip PGM supply."
He points out that this scenario is already playing out, with the market balance for palladium being in deficit for at least nine years, while rhodium has been in deficit over the past two years.
"In both cases, the supply imbalance has been the main driver of the skyrocketing price of these metals," says Davis.
He notes that because platinum has a positive outlook owing mainly to substitution in petrol autocatalysts and an increase in catalyst loadings, together with a global decline in platinum supply, platinum will shift into a deficit in 2022.
NEGATIVE FACTORS
The continuity of South Africa's PGMs supply is not secure, says Davis.
"The South African PGM mining industry has faced numerous challenges in the past caused mainly by the combined effects of electricity shortages [load-shedding], prolonged industrial action, political upheaval, increasing costs and a significant reduction in capital expenditure," he says.
In addition, Davis says the South African PGMs mining industry has been "starved" of expansion and ore reserve replacement capital for a number of years.
Further impacting on domestic PGMs production is 14 years of intermittent load-shedding of between Stage 2 (2 000 MW needing to be shed) and Stage 6 (6 000 MW to be shed).
"Eskom has recently warned that it expects load-shedding to increase towards the end of 2021, as it is facing a 5 GW shortfall, which is expected to continue for at least another five years," he says.
With a higher degree of load will come a lower degree of PGMs production, says Davis.
The higher the load-shedding stage, the more frequent load-shedding becomes. In this regard, the impact on PGMs production will likely become more severe.
Davis points out that Eskom supplies about 14% of its total supply to the mining industry (3 284 MW) of which about 40% (1 314 MW) is used in the platinum mining industry.
After getting input from various PGM miners, Davis finds that load-shedding of greater than Stage 4 would translate into significantly reduced PGMs production, with smelters also having to be shut down at this stage.
"After canvasing some of the larger platinum mines there was general agreement that load-shedding at Stage 6 and above would mean that the miners would not go underground. The loss in PGMs mined would depend on the frequency of Stage 6 load-shedding," he says.
However, in a positive turn of events, Davis says, hope is presented in President Cyril Ramaphosa having announced a change in licence-exemption cap on self- or distributed-generation plants from 1 MW to 100 MW.
"The increase in the threshold will enable mining companies and other entities to build power generation units of up to 100 MW without applying for a licence through the National Energy Regulator of South Africa. This move was welcomed by the mining industry," he says.
In this regard, Davis points out that Sibanye-Stillwater is preparing feasibility studies for prospective 50 MW and 85 MW solar photovoltaic [PV] projects for its Rustenburg and Marikana operations, respectively.
"Anglo American Platinum is looking at building a 75 MW to 100 MW solar PV plant to support its Mogalakwena mine and concentrator, while Northam Platinum will likely install modules of 10 MW," he says.