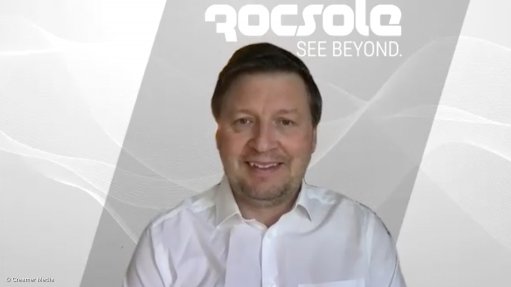 Rocsole CEO Mika Tienhaara.
Photo by: Creamer Media
JOHANNESBURG (miningweekly.com) – Like all other key industries, mining is having to advance along a net-zero path as part of the global decarbonisation drive.
Gone are the days when innovation and financial improvement can be sold on their own without a carbon advantage. (Also watch attached Creamer Media video.)
Technology is available that cuts carbon and ups financial performance by looking inside processes with the help of artificial intelligence and deep learning prediction solutions.
Pushing efficiency into the top quartile to advance net-zero emissions is in; tolerating unexpected shutdowns that increase carbon emissions is out.
Think of 'rock' and 'soul' and that will provide insight into Finnish company Rocsole, which advocates the use of the highest levels of efficiency to help the world achieve the lowest levels of carbon.
Amid this, Mining Weekly conducted a Zoom interview with Mika Tienhaara, the CEO of Rocsole, an academic-spinoff cleantech company intent on supporting operational teams to meet zero-emission targets. The company's imaging and data analytics accelerate the net-zero road map by enabling improved energy efficiency and actionable insights that also lead to operational cost savings, energy improvement and emissions reduction.
Mining Weekly: Companies across countless industries have pledged to achieve net-zero carbon emissions. What steps should mining companies take to meet their carbon reduction promises?
Tienhaara: Net zero is so important and today with any type of technology, it's no longer just about going to a customer and saying that with this technology you can innovate, you can have some improved financial performance. You actually have to link it with a carbon advantage. We talk about carbon capture, for instance, which is necessary but also has a sense of trying to postpone activities. We have to do something now and fast-track the net-zero path, and we can do that with especially operational efficiency, push efficiency or operational excellence to the top quartile. That is key in terms of advancing the net-zero path.
How can newer and cleaner processes help operational facilities to run in a manner that does not contribute to rising carbon emissions?
Such an important question. First of all, look at carbon emissions, the anthropogenic greenhouse gas emissions come from two major industries. Energy production accounts for 34% of the emissions, manufacturing accounts for 24%. The mining side is, of course, key here and many times in processes, when we looked at the data created for insights in processing, it's actually one of the most critical things to improve, because so many unexpected shutdowns happen due to faulty sensors, and when you have unexpected shutdowns in processes, that creates more emissions. Also, when you don't have the correct insights from processes, because also in mining you can't really see all the activities happening, you're dealing with liquids and solids. Separation processes are very critical and also sensitive to having good insights. That causes bad processing or bad product quality or you have to use excess chemical treatment, but we're commercialising electrical tomography that gives insights from emulsion layers, solid deposits and solid production, and in combination, and that's one of the key areas to improve, in terms of process monitoring, to accelerate to net zero.
How can process optimisation increase productivity while at the same time ensuring that carbon emissions are reduced?
This goes hand-in-hand because when you improve efficiencies, that also means that you might go into optimisation, you get predictive models, and when you go that route, you can also see that if you have certain process complexities or need to do some maintenance activities or improvements to the process, you can plan your shutdown, for instance, and that brings you a controlled environment in terms of handling your process. Research shows that efficiency increases also reduce the carbon footprint, which is important to keep in mind. Don't just think about generating the data. Look at what's critical to solve bottlenecks, pain points, and link sensor data to software, artificial intelligence and machine learning. That's the package.
What good example can you provide of a mining company that has achieved outstanding emission reduction?
We are an academia spin-off and we have patented technology. We have started commercialisation. We've gone into various industries. We're commercialising in oil and gas upstream production. We are in a piloting phase in various industries. We can, with electrical tomography, determine conductivity permittivity of various matter and media. In a sense, we can determine the 'soul of rocks' – Rocsole – and Finland is big in mining, so that was the introduction to industry from our side. Previously, let's say a more simple version of the technology was very much used in froth flotation, and similar types of applications, and that's where we are also piloting now. We're at an early stage, however, if you look at the various processes in mining, whether that's flotation or its thickening or leaching, there are various types of process monitoring that need to be enhanced and digitised to provide better data and that's where we aim to help the industry.