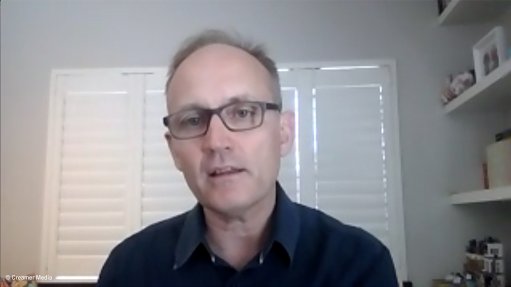 AmaranthCX director and owner Paul Miller
Photo by: Creamer Media
JOHANNESBURG (miningweekly.com) – An incentive is needed for the listing of companies on the smaller end of the stock exchange, which is facing an existential crisis, said AmaranthCX director and owner Paul Miller on Monday.
Reacting to the groundswell of headlines about delistings and lack of listings on the Johannesburg Stock Exchange (JSE) , Miller pointed out in a Zoom interview with Mining Weekly that stock markets become successful as venues for primary capital raising when the small end of the market is incentivised. (Also watch attached Creamer Media video.)
Australia, for example, has recorded 63 new listings so far this year, while South Africa has had 20 delistings, with another nine delistings scheduled for next year.
"We're sleepwalking into a situation where the stock exchange will have less than 100 listed companies in 20 years. That is the trajectory and unless we make a change to something, that trajectory will continue," said Miller.
"Our problem here is that the structure of the savings industry is anti-entrepreneurship, and until we address that, we will see a continuing decline in the number of smaller companies on the stock exchange. It will effectively become a market for secondary listings of foreign companies for the Top 40 and for listed products, exchange traded notes and exchange traded funds. It will no longer serve its societal purpose as a source of primary capital for growing and expanding companies, be they mining, technology or retail companies," he said.
The JSE, which was created in Simmonds street in downturn Joburg in order to raise primary capital to build the gold mining industry, was, he said, no longer a source of primary capital – and no policy makers seemed to care.
"Look, we can't be blind to the general context and that is a business-unfriendly State, negative economic growth, and an appallingly poorly managed and administrated minerals sector. That is the bigger picture, we can't escape that," Miller said.
But savings reforms introduced have not only had very serious unintended consequences but were being so intensely accentuated that the small end of the stock exchange no longer stood a chance of attracting funds.
Less than a dozen institutions, all members of the Association of Savings and Investment in South Africa (ASISA), as well as the Public Investment Corporation of South Africa, now control 90% of South Africa's R9-trillion of savings.
ASISA members in particular are subject to rules that direct investment into the big end of the stock exchange, to the virtual exclusion of the small end.
To take it a step further, asset consultants who advise pension funds, use benchmarking and indices to choose, monitor and provide risk management services to asset managers. As a result, everything in the pension fund space has become very benchmark-centric.
"That has also moved into wealth management for independent financial advisers and stockbrokers, where they are also creating constructive portfolios for high-net-worth individuals, for example.
"What that means is that any company that is not significant in one or other index is almost uninvestible. Of course, it's always small companies that are underweight indices, by definition.
"So, we've seen this massive move into the big end of the stock exchange. We've also seen a huge concentration in the way assets are managed," said Miller.
As a consequence, the big institutions have got very big and dominant, with two of the biggest poised to merge into an even bigger, more concentrated asset manager – moving it even further away from the midtier and smaller end of the stock exchange.
That public interest factor has not even been mentioned in the reporting on this upcoming merger. On the contrary, it is being done against the backdrop of asset managers being officially encouraged by National Treasury to get bigger and more concentrated.
National Treasury is plainly not interested in stock exchanges being places where primary capital can be raised.
The background to the demise of the small end of the JSE, Miller said, was a structural problem that had been two decades in the making.
"It's becoming increasingly clear that this is becoming an existential crisis for the smaller end of the stock exchange with all the implications for entrepreneurial activity, the growth of small and medium businesses into something bigger and especially for our mining industry – junior mining, mine development, mineral exploration," he said.
Mining Weekly: Given the serious repercussions on the economy of these delistings and absence of new listings, is it not time the Cabinet ordered the National Treasury to review the tax incentives given exclusively to those who invest with ASISA members, owing to the unintended consequences this is causing?
Miller: When the process of reform was embarked upon, way back in the early 90s, the prediction was that the flow of contractual savings, of institutional savings into the stock exchange, would lead to a burgeoning of primary capital raising and new listings and growth in the economy – but that hasn't happened. What has happened is a year-on-year decrease in the number of companies on the JSE. This wasn't the intention. All that money has to be managed by an institution. So, we've taken our savings and we've converted them into institutionally managed funds. Individuals benefit tremendously from those tax incentives, I don't want to take that away at all. But the rest of the benefit flows to those institutions.
LIST OF ASISA MEMBERS
These are the names of ASISA members listed on its website: The members of ASISA include 27four Investment Managers Pty, ABSA Financial Services Ltd, Afena Capital Pty, Alexander Forbes Ltd, Allan Gray Pty, Assupol Life Ltd, Coronation Fund Managers Ltd, Discovery Holdings Ltd, FirstRand Life Assurance Ltd, Foord Asset Management Pty, Hollard Life Assurance Ltd, Kagiso Asset Management Pty, Liberty Holdings Ltd, Mazi Asset Management Pty, Momentum Metropolitan Ltd, Nedbank Wealth, Ninety One South Africa Pty, Oasis Group Holdings Pty, Old Mutual, Prescient Investment Management Pty, Prudential Portfolio Managers Pty, PSG Konsult Ltd and Sanlam Ltd.
On the benefit to these institutions, Miller said: "They've grown their assets under management fantastically and individual portfolio managers are fantastically wealthy individuals these days. The benefits have flown to investors and the rest of the benefit has gone to institutional fund managers. Those institutional fund managers have size liquidity limits on what they can invest and they are very closely managed against benchmarks.
"As a consequence, many of them are what we would call index huggers. Most of their investment decisions don't stray very far from the indices. They claim to be able to outperform the indices. There's no evidence that they do but they charge active management fees and they invest very close to benchmarks that asset consultants and discretionary fund manager people who construct portfolios, create," Miller said.
"What we've done is we've effectively gutted the market by moving everything into the big end of the stock exchange through the tax incentives we provide to individuals."
He said blaming the JSE for the ongoing year-on-year decrease in the number of listed companies was very unfair, pointing to the JSE having had substantial initiatives to reverse the trend.
"Sadly, as much as each individual initiative was successful in its own right, it hasn't been able to stem the overall decrease in the number of listed companies," he said.
Mining Weekly: If this is bad for the small end of the South African economy and the substantial and highly significant supply chain this serves, why is National Treasury facilitating and even intensifying these reforms?
Miller: Everyone involved in the sector is beholden to those big players. There's nobody arguing for a small company that hasn't yet listed. The big players can put up massive public relations, they do targeted research, almost anyone who's an expert in this earns their living from those people. So, you can't expect there to be an opinion or a point of view different to that which benefits the large institutions. For example, the tax-free savings accounts were introduced, National Treasury said they have to be managed by an institution. They would have been ideal for individuals to manage their own share portfolios, which would have resulted in a lot more diversity and interest in the smaller end of the stock exchange. Every time a fund gets bigger, smaller companies drop out of the investible universe. So, we've got this point where 11 asset management companies, soon to become 10, manage 90% of all money in South Africa, if you include the Public Investment Corporation. That cannot be good. The JSE gets blamed because it is expensive and onerous, which is not the case, but in fact it's the much bigger picture that we need to be looking at on how savings are managed and we need to have some sort of incentive for the smaller end of the stock exchange. The JSE lobbied for inward dual listing exchange control rules to be relaxed. They were successful and we had our first listing being Aquarius Platinum way back in about 2005. Subsequent to that, there are 40 or 50 inward dual listings. They've come and gone; they aren't all still on the exchange but there was a little pocket of success there. Then we had the AltX, which had about 100 listings it was able to attract to the stock exchange. There are fewer now because companies come and go. We then had the real estate investment trust structure that was lobbied for and introduced. That was about 40 listings. Then we had the SPACs, special purpose acquisition companies - four or five listings there. The JSE has practically been heroic in the efforts to stem the tide in this ongoing decrease in the number of listed companies. But, of course, the JSE itself is a listed company, so they can't be brutally frank and honest about the problems they are trying to solve. They've got to talk up their offer to the market, which they do successfully. There's lots positive about the JSE, so they talk to the positives. Back at the ranch, however, we've got this year-on-year structural decline in the number of listed companies. It is in the context of a business-unfriendly State. I accept that. However, we have to look at the unintended consequences of the last 30 years of reform and the tremendous benefits that have flowed to individual investors, but also to the large institutions and the fact that small companies and companies not yet listed have been completely cut out of the process.
Mining Weekly: If small companies are not listing, activities of small companies do not take place, which has a negative impact along the supply chain, does it not?
Miller: That comes down to the issue of primary capital. Secondary trade in a company's shares builds nothing. Sure, it allows pensioners to save. It allows large institutional portfolio managers to get rich. But it doesn't build anything. What builds things is primary capital raising. Now we don't have any proper statistics in South Africa on the amount of primary capital raising that occurs, and that's largely because the way it's measured is the net increase in shares in issue, which could be issued in any market. There are no statistics on true primary capital raising for investment in projects and companies in South Africa. So, we haven't been aware of the decrease, year after year after year, in the amount of primary capital raising. That's what we need to return to, to the historical roots of the stock exchange. We've got one proposed listing that I'm aware of, which will be a fantastically good one, Coca-Cola Bottling Company. It will be a very large company, go straight into the Top 40, benefit from the institutions because it will go straight into an index. But our problem here is the structure of the savings industry.