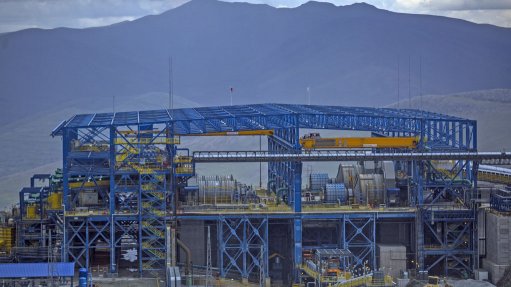 BRIGHTER FUTURE The cusp of macroeconomic reform in countries like Argentina, a stable business environment in Chile, and improved support for foreign direct investment has improved the outlook for the Latin American region
Photo by: Bloomberg
Generalist and specialist investors are returning to the Latin American mining sector in large numbers, as they see the opportunity for returns re-emerging, content developer and presentation coordinator Mining Indaba director of content Harry Chapman tells Mining Weekly.
The cusp of macroeconomic reform in countries like Argentina, a stable business environment in Chile, and improved support for foreign direct investment has been highlighted by the company as the reason behind the improved outlook for the Latin American region. "On top of this, cautious optimism about improved returns from mined commodities, in particular, lithium and gold, is making Latin American mining more appealing to investors."
Mining Indaba says Latin America is also perfectly placed to take advantage of the growing demand for battery metals, thanks to significant investments being made in electric vehicle battery development and the continuing growth in consumer electronics. Coupling this market sentiment with Latin America's vast lithium triangle, the company adds that there are significant opportunities for the region's mining companies, governments and international investors.
"With recent changes in governments in Peru, Brazil and Argentina, much of Latin America is essentially under new management, with policies changing to favour the mining sector – look at the recent slashing of export taxes for mined commodities in Argentina. This all provides an improved outlook for investors, miners and the region's economy," adds Mining Indaba.
Therefore, leveraging the success and channelling the expertise gleaned from hosting the yearly Investing in African Mining Indaba, in Cape Town, South Africa, Mining Indaba is hosting its inaugural Investing in LatAm Mining Cumbre from July 11 to 12 in Santiago, Chile.
"Running an event like this is important to provide an opportunity for investors to take advantage of the upturn and give mining companies in the region the chance to secure funding," highlights Chapman, noting that the Latin American mining region lacks a mining event that drives investments and attracts international investors.
By pioneering this Cumbre, Mining Indaba hopes to fill this void; supporting the industry though the provision of an international forum in partnership with mineral exploration and development community association Prospectors and Developers Association of Canada (PDAC).
As with the tried-and-tested method of the entrenched African Mining Indaba, the Cumbre will convene investors, mining companies and governments, with international and local financiers and brokers also expected to attend.
Taking on the Challenge
Chapman says, in pursuing this inaugural Cumbre, as with any new venture, getting the project off the ground and explaining the Mining Indaba's long-term vision to industry was "hard work". This was mitigated through regular trips to the region, in addition to two years' worth of meetings promoting Mining Indaba's message.
Secondly, brand recognition was problematic. While the Mining Indaba is established in Africa, it does not enjoy the same recognition in Latin America. The company, therefore, partnered with the PDAC, which is well known in the region. This partnership enabled the brand recognition of the PDAC to be successfully combined with Mining Indaba's experience in attracting investors to specific regions.
Through bringing international brands, such as the PDAC and Mining Indaba, to Latin America, whose pulling power will shine a spotlight on the region, the Cumbre, Chapman believes, will support investment in the region and attract international investors to liaise with governments and mining companies. It is also expected to provide long-term support for the mining industry and generate long-term commitment to hosting such an event in the region.
Chapman indicates that Chile was chosen as the location for the inaugural Cumbre, owing to its status as an internationally respected mining jurisdiction with a successful industry. Mining Indaba gave much consideration to selecting the ideal location, with Chile chosen after two years of research visits to Latin America. However, Chapman suggests that the location could change in future years. "There are some other great mining jurisdictions in the region where we could rotate the event to, if the industry requests it."
On the Cards
For this event, Mining Indaba has set the goal of building a strong platform, which Chapman expects will serve as the foundation to establish the Cumbre as an event that is as important to Latin America as the Mining Indaba is to Africa.
Mining Indaba hopes to highlight Latin American mining projects and operations, from juniors to midtier and major mining companies.
A notable session for junior miners at the Cumbre is the Investment Battlefield, a competition where juniors will pitch their projects free of charge to investors. This will follow a format such as Dragon's Den or Shark Tank (reality television format programmes where entrepreneurs pitch their business ideas to secure investment finance from a panel of venture capitalists).
Mining Indaba director of investor relations Kael O'Sullivan also highlights the fact that, primarily a deal-making event, the Cumbre's programme aims to put a spotlight on some of the "most exciting" mining projects in Latin America that are primed for investment while providing content through wide-ranging discussions with industry and government leaders.
He extolls that investors have much to glean from attending, as it is the only event in the region gathering mining majors, midtiers and juniors worldwide. This will enable investors to obtain intelligence from local players and uncover some of the most promising opportunities the region has to offer.
Chapman says, besides supporting investment in the Latin American mining industry, the Cumbre will also provide a forum for the discussion of challenges – such as sustainability and business-friendly regulations – between governments, investors and mining companies. Moreover, it will provide brokered, prequalified meetings between investors, mining companies and governments.
Investors will be granted the opportunity to interact with mining Ministers from Chile, Brazil, Argentina, Ecuador and Peru, which will be facilitated through the Ministerial Summit, a parallel stream where open conversations will be encouraged.
Owing to the success of the Mining Indaba Investor programme launched at the Investing in African Mining Indaba in 2015, its blueprint will be used to replicate the programme for investors attending the Cumbre.
Mining Indaba has received an "excellent" response from the investment community, specifically from the specialist funds based in Europe and North America, evidenced by early commitment to attend.