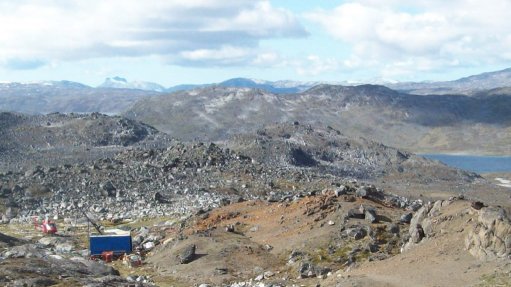 Maniitsoq, Greenland
Photo by: North American Nickel
VANCOUVER (miningweekly.com) – Drilling productivity at base metals explorer North American Nickel's (NAN's) Maniitsoq project, in south-west Greenland, has been lower than expected, prompting the company to add another drill rig and extend the drilling programme by two weeks to late September, to achieve as many metres as possible.
The TSX-V-listed junior is entering its third year of a strategic drilling campaign at its flagship nickel/copper/cobalt/platinum group metals project, focusing on step-out drilling at the Imiak Hill Complex (IHC), Fossilik and P-013SE.
The programme makes use of borehole electromagnetic surveys, surface induced polarisation geophysical surveys, mapping, structural geological studies and three-dimensional modelling.
The company advised in a statement on Wednesday that step-out drilling had been completed at the P-013 SE target and was ongoing at the IHC and Fossilik area. The company has completed 5 378 m in fifteen holes, as well as one hole extension up to last Friday, out of the total 11 000 m planned programme.
However, the company expects it will only complete about 9 000 m to 9 500 m of drilling.
This year, NAN started using a Greenland-based sample preparation laboratory, located in the capital of Nuuk, in the hope that it would speed up assay reporting.
NAN believes the Maniitsoq property to be an emerging mining camp, with its holdings comprising 2 985 km2, covering numerous high-grade nickel/copper sulphide occurrences associated with norite and other mafic-ultramafic intrusions of the Greenland Norite Belt. The more than 75-km-long belt is situated along, and near, the south-west coast of Greenland, accessible from the existing Seqi deep-water port, with an all-year-round shipping season and abundant hydroelectric potential, according to the company.
In 2016, NAN completed 9 596 m of drilling to test the continuity of prioritised nickel-bearing zones. This resulted in several high-grade intersections, expanded mineralised zones and new discoveries.
At IHC, hole MQ-16-117 returned 74.05 m grading 1.08% nickel, 0.54% copper and 0.11 g/t precious metals (PM – gold/platinum/palladium), including an intersection of 13.65 m grading 1.84% nickel, 0.64% copper, and 0.1 g/t PM. At Fossilisk, hole MQ-16-105 intersected 10.2 m grading 3.41% nickel, 0.28% copper and 0.13 g/t PM, including 4.1 m grading 4.85% nickel, 0.29% copper and 0.13 g/t PM.