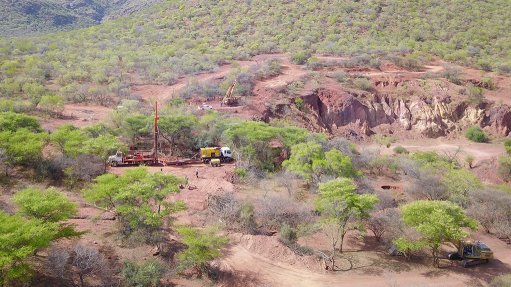 GIYANI METALS' OTSE PROSPECT The growing EV market has led to an increase in demand for materials used in rechargeable batteries
Growth in the electric vehicles (EVs) market has led to increasing interest and demand for materials, such as manganese, used in the production of EV rechargeable batteries.
This increased interest has also led to EV manufacturers aiming to diversify their battery material suppliers, owing to a need for sustainability and to ensure that manufacturers have a steady supply of materials.
Therefore, along with mining opportunities, there is also an uptick in opportunities for in-country beneficiation.
Southern Africa is one of the most dominant producers of higher-grade manganese ore, which largely feeds the steel sector, particularly in Asia.
Currently, a small proportion – less than 1% – of manganese is processed into high-purity manganese sulfate, which is a precursor material used in the production of lithium-ion battery cathodes, which, in turn, are used in rechargeable EV batteries.
Battery metal development company Giyani Metals business development VP George Donne explains that large automotive companies are making a concerted shift towards manufacturing EVs, owing to increasing regulations aimed at reducing internal combustion engine vehicles produced worldwide.
Consequently, gigafactories – large facilities that build lithium-ion rechargeable batteries for the EV market – have increased.
Gigafactories require large amounts of raw materials, such as high-purity metal salts, which include nickel sulfate, cobalt and lithium, with high-purity manganese sulfate a critical element of the battery.
Hence, the battery manganese sector will grow, owing to its fundamental role in the move towards EVs, says Donne.
He explains that there is currently no shortage of manganese, with about 20-million tonnes produced globally.
However, very few resources are being focused on processing ore into a battery-grade material. Currently, manganese for the battery sector accounts for about 50 000 t of the global production, with China having most of the processing capacity for battery-grade material.
Owing to renewed emphasis on factors such as effective risk management and increased minerals traceability, EV producers are expected to move towards diversifying their supply chains by accessing high-purity manganese sulfate from producers outside China.
Donne explains that, as large amounts of ore are traded from Africa, and domestically within China, it can be difficult to trace the source of the minerals. This becomes challenging because EV manufacturers are concerned with increasingly common regulations stipulating due diligence practices, responsible sourcing and sustainability for their processes and products.
Therefore, by locating beneficiation facilities in-country and close to the orebody, as Gyani Metals is doing with its projects in Botswana, companies can provide full traceability records for customers.
Donne adds that the Covid-19 pandemic and its resulting lockdowns have highlighted that the beneficiation of much-needed materials has become centralised within China.
Donne notes that 90% to 100% of the world's processing capacity of the two key battery components, graphite and manganese, is in China.
The impact of various lockdowns in Shanghai and other Chinese export facilities significantly disrupted the global supply of many products, including battery precursors.
While the battery industry is relatively small and nascent, once the EV industry starts to require more battery minerals, such disruptions or delays will have a significant impact on the industry, adds Donne.
He stresses the need for a diversified supply chain by citing the global shortage of microchips – which occurred as a result of Chinese producers dominating the market in terms of microchip manufacture and, therefore, having the majority of the processed materials needed to produce chips.
The EV industry is still developing and, consequently, there is no clear concept yet of what wider consumption of the minerals required for batteries will entail, although in-country beneficiation presents a significant opportunity, Donne concludes.