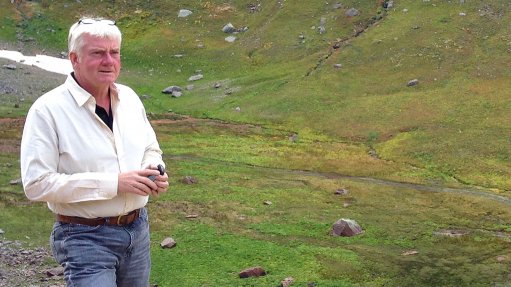 Fortune Minerals president and CEO Robin Goad
Photo by: Fortune Minerals
VANCOUVER (miningweekly.com) – With a bird in hand, Canadian project developer Fortune Minerals is considering upping the ante for its flagship Nico cobalt/gold/bismuth/copper project, in Canada's Northwest Territories.
The London, Ontario-based company late last month announced that its update of the 2014 feasibility study for the Nico mine, and its complementary metals refinery to be built in Saskatchewan, will take longer to complete than expected.
The reasons are twofold, noted president and CEO Robin Goad in an interview with Mining Weekly Online on Friday.
"The feasibility study update by Hatch and Micon is proceeding well for the initially planned scope of work for the mine and concentrator. However, Hatch required two metallurgical testwork programmes to properly size equipment and conduct the detailed design work for the copper cementation circuit and the manganese removal step in the cobalt sulphate circuit for the planned refinery near Saskatoon, Saskatchewan," he said.
This work is currently in progress at SGS Lakefield Research but, because of laboratory congestion, it would not be completed until the end of October, after which the consulting engineering firms will still need more time to undertake costing and evaluate the available data.
The metallurgical flowsheet for Nico was previously confirmed from piloting, and a high-quality cobalt sulphate heptahydrate product has already been produced that meets the specifications of the rechargeable battery industry.
Significantly, Goad noted that previous work at Nico had identified some sub-economical mineralised material which, at today's improved prices, can add several years to the existing 21-year mine life.
While he was careful not to tip his hand, Goad noted that the added potentially economic material might allow Fortune to forego previous plans to use second-hand processing equipment, and to buy brand new gear that does not require refurbishment, provides improved operating economies and does not constrain production in a potentially bigger operation.
"With cobalt metal trading in the $30/lb range right now, and our main product, cobalt sulphate, having been up to $35/lb, we have taken the opportunity to re-evaluate the operation. We are working on restating the resource and are rethinking the mine plan, since the higher grades found in the deposit allow us to tailor production to market demand," Goad stated.
IN HOT PURSUIT
Nico is a primary cobalt project with about 60% of projected revenues from cobalt at current commodity prices. The project also boasts 12% of global bismuth reserves but, according to Goad, this will account for only about 10% of overall revenues, with gold contributing up to 30% of revenues, and copper making an insignificant contribution to revenues.
As it stands, the shovel-ready Nico deposit contains openpit and underground proven and probable reserves totalling 33-million tonnes containing 82-million pounds of cobalt, 102-million pounds of bismuth, 1.1-million ounces of gold, and 27-million pounds of copper. At the previously planned mill throughput rate of 4 650 t/d, the mineral reserves will sustain operations for about 21 years.
More than $115-million of work has already been conducted for the Nico project, and Fortune has appointed PricewaterhouseCoopers Corporate Finance to help secure the required C$589-million-plus mine capital.
Goad commented that Fortune has signed confidentiality agreements with several interested third parties, giving them access to the data room. These parties span diverse industries, including the automotive sector, battery manufacturers, banking groups, and royalty and streaming firms.
Pending financing, Fortune plans to conduct the first year of construction of the mine using winter road access, while the Northwest Territories government (GNWT) Transportation Department constructs a new all-weather gravel road to Whati, which is currently in the environmental assessment stage. Fortune will construct a 50 km gravel spur road to connect with the government road as part of its development; this has already received the required permits.
Fortune and the GNWT are also negotiating a socioeconomic agreement.
In Saskatchewan, all permits and approvals are already in place for the metals processing facility, except for a rezoning application, which Goad said is in progress.
COBALT RALLY
Cobalt prices have jumped a significant 138% year-on-year to hit a new all-time high of $27.78/lb, or $61 250/t at the end of August, while higher-grade product recently broached the $30/lb level. This is significantly more than the $16/lb used in Fortune's 2014 feasibility study.
Goad pointed to the global cobalt market's dependency on the Democratic Republic of Congo for cobalt production, where a volatile political situation could potentially disrupt supply.
"Even without any disruption, the cobalt market is still in deficit, and this will only grow as new demand comes on line," Goad stated.
He sees the current market bottom at around $25/lb of cobalt, with a potentially limitless price ceiling to 2025. However, he noted that, at a price north of $35/lb, battery manufacturers will likely accelerate efforts to substitute cobalt's use in lithium-ion batteries. Nevertheless, the quality and reliability of batteries seem to decrease because of overheating issues with reduced cobalt use.
"We are seeing a reduction in the use of cobalt in batteries, but there still is no substitute for cobalt when it comes to the quality of batteries. While the use of cobalt in portable devices such as mobile phones – which use mere grams of cobalt in their batteries – contributed to a 50% increase in demand in recent years, the magnitude of demand growth with the advent of electric vehicles (EVs), which use kilograms of cobalt in their batteries, is unprecedented.
"EVs continue to grow faster than previously forecast and more auto manufacturers have announced plans to phase out the internal combustion engine in the next few decades," Goad said.
Analysts estimate the cobalt market to grow to about 300 000 t by 2025.
PERFECT TIMING
"The time to build Nico is perfect," Goad declared.
He pointed out that, in combination with an experienced management team in the Northwest Territories, project engineering and construction costs are still low, with little competition from the oil sands industry for these resources. Further, equipment prices remain relatively in line with that of the 2014 feasibility study, despite some currency fluctuation.
"The period between 2019 and 2025 really seems to be the ramp up for cobalt demand and, with our two- to three-year build programme and few competing cobalt projects on the horizon that do not rely on by-product production such as in copper mines, we expect to enter the market on the up-trend," Goad advised.
Fortune has also identified several other smaller projects held by other proponents that could potentially require the Nico flowsheet and, with extra capacity at the Saskatchewan refinery, this could pose an ideal opportunity to undertake toll processing for third parties.