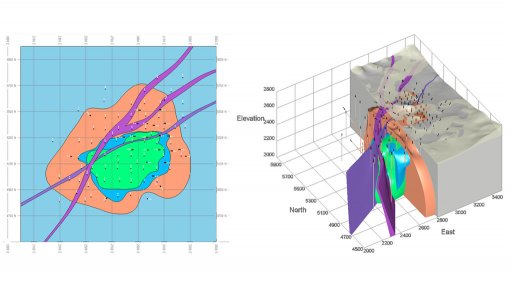 BETTER VISUALISATION GeoLogic helps geologists build complex shapes, using mathematical algorithms to create a surface or a solid from drillhole data
Adding the GeoLogic software solution to the MineSight mine planning suite provides geologists with smart, time-saving modelling and allows for a reproducible, auditable geological model that can be quickly updated with new information, says mining technology developer Hexagon Mining.
The company added GeoLogic to its product range in March to help geologists explore multiple interpretive scenarios and quickly build complex shapes directly from drillholes, using mathematical algorithms to create a surface or a solid from drillhole data.
"For instance, if drillhole data contains information showing the location of a fault, GeoLogic will find all of those fault locations in the drillholes, and create a surface automatically that matches the fault trend. "GeoLogic also supports full user controls, allowing geologists to use various types of inputs and options to adjust how the solids or surfaces are built," explains Hexagon Mining communications director Neville Judd.

The addition of this software to MineSight comes at a time when the role of software in mine planning has been elevated, says Judd, as the global mining industry faces the effects of tighter profit margins, scarcer high-grade ores and general economic volatility. Projects are subsequently becoming increasingly complex and more expensive to develop, in addition to the challenges presented by country-specific mining legislation, environmental considerations and financing.

"With all these factors at play, it is now more important than ever to reap the benefits that mine planning software can provide while understanding the science behind this technology, so that results can be audited."
Tough times are forcing mining companies to focus on costs and re-evaluate efficiency and productivity in all areas of a project, and "productive mines know that software has an important role to play in such re-evaluation, especially when it comes to mine planning", adds Judd.
He stresses that Hexagon Mining's signature software solution, the MineSight suite, represents almost half a century of refinement in the art of analysis, planning and design of openpit and underground mines, with GeoLogic the latest development in the software's geology offering.
MineSight Implicit Modeler replaced what Judd describes as the laborious task of wire-framing drillhole data amid details and deadlines, which enabled geologists to quickly build the detailed geological surfaces and solids essential to a productive mine. However, GeoLogic advances this function by leveraging the power of MineSight Implicit Modeler to sequence surfaces and solids, and create an airtight geological model, explains Hexagon.
"GeoLogic empowers geologists to explore multiple interpretative scenarios and build complex shapes directly from drillholes, rapidly and accurately. "It is different because it is integrated into a mine planning suite that includes our drillhole database, MineSight Torque, and MineSight 3D [three-dimensional], which visualises output," says Judd.
He adds that GeoLogic enables geologists to move seamlessly from data interpretation, data interpolation and data statistics using integrated functionalities. They can output 3D solids and surfaces ready to code their block model. It eliminates silos and shares an open platform, streamlining the whole geology portfolio.
GeoLogic features a smart vein-set creation and strata-layer stacking methodology based on MineSight's true thickness functionality and automatically manages fault blocks and unconformities. It is powered by the industry-standard radial basis function and enables users to improve the effectiveness of field data information by combining surface-mapping point, downhole-data point and downhole and surface orientation to create realistic, digital representations of surfaces and solids.
GeoLogic can be used to build and manage complex models comprising many different geological events sequenced within a timeline.

These complex models are secure and can be used as a basis for domain creation when transitioning to the resource block model phase.
Hexagon's Implicit Modeler customers will automatically upgrade to GeoLogic, but there is also significant interest from other companies that recognise how much time their geologists can save using the software. The software is available worldwide through Hexagon's global network of branch offices, including Hexagon Mining South Africa, which is based in Johannesburg.
Pairing Products
Hexagon Mining completed the acquisition of Perth-based technology company MiPlan in January. MiPlan develops mobile software applications for field data collection, fleet management, production management and reporting, and has a proven record of increasing mine productivity and providing a rapid return on investment.
Hexagon president Hélio Samora highlights that MiPlan's solutions suite will be a formidable addition to the company's technology portfolio, enhancing Hexagon's operational offerings and appealing to a wider variety of mining operations.
Hexagon believes that MiPlan's MiiNT platform is particularly significant for its customers, as the software solution supports the data management, analysis and reporting needs of any sized operation.