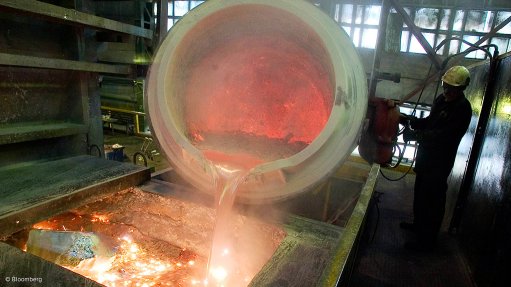 IN TANDEM The local pumps manufacturing industry relies on the continued operation and growth of foundries in South Africa
Photo by: Bloomberg
One of the biggest challenges for local foundries and pumps manufacturers is competition from imported products, says Kimberley-based metal castings specialist KEW Foundries.
"I would say about 70% to 80% of the pumps used in South Africa are imported," KEW Foundries operations director Jaime Goncalves says, telling Mining Weekly that the lower cost of foreign imports versus locally manufactured product is one of the main reasons for importing pumps.
He believes that cost structures work against the local pumps manufacturing industry, and specifically the foundry industry. A key cost structure is electricity. While it was a negligible cost 15 years ago, electricity, which was one of South Africa's key cost advantages against other foreign manufacturing countries, has now become a major cost driver. Foundries now have to factor in possible electricity tariff increases into their contracts to produce products to avoid losses when working on projects.
Another detrimental factor is the cost of locally sourced input materials such as those of KEW Foundries. The materials are mined and processed in South Africa, however, the foundries have to pay international prices based on the parity exchange for the materials.
Goncalves states that the demand for pumps, valves and related sub-assemblies is ever present, especially as South Africa is a declared water-scarce region. A substantial amount of water reticulation components are imported and, if these were produced in the country, it would sustain existing foundries and original-equipment manufacturers, as well as support South African subcontractors who would continue to maintain financial security, create jobs and deliver the value adding processes South Africa desperately needs, he claims.
However, this is not presently the case. Where South Africa desperately needs the value adding processes to promote job security, job creation, skills development and sustainability, these opportunities are being exported to foreign economies.
Additionally, the scale of economies differ, with there being a marked difference between South Africa and China, for example. In South Africa, there are just more than 150 operating foundries in the country; in China, there are thousands of foundries. This means that China has the capacity and economies of scale to produce significantly more components than manufacturers in South Africa, he adds.
Capability Strengths
Goncalves stresses that South Africa can produce all forms of pumps, including those used within our deep mines: "We have the installed equipment base, we have the assets, and most importantly, we can attend to a problem immediately in comparison with a foreign supplier," he avers. Service levels in South Africa would also be of a higher standard, owing to the close proximity of manufacturers and clients.
While manufacturing assets might be a bit aged, owing to the demand slump in the South African manufacturing industry, which, in turn, has led to slow investment in equipment, he avers that the equipment can still produce high-quality pump casings.
Further, the skills set of the manufacturers in the country is being maintained, and the foundries can meet quality and skill-set demands stipulated by the clients.
Goncalves says the skills sets of KEW Foundries personnel have improved to such an extent over the past 15 years that the company is producing highly complex multiplestage pump casings. The largest pump that the company has produced weighed about 7.5 t and was produced in 2014. KEW Foundries cast a 14-t casting for the materials handling industry in February.
The South African industry, particularly the mining industry, needs to be made aware that pumps manufacturers can meet client requirements. "We know we can do it," he declares.
However, a growing demand that South African foundries are currently unable to meet is for stainless steel pumps and pump components, says Goncalves. He suggests that this is mainly because of the demise of one of the key foundries that used to specialise in stainless steel, about two years ago. Consequently, many foundries in South Africa are slowly increasing their capacity to meet demand in this regard to retain the market.
"Despite the number of foundries in the country not currently being able to cater for demand, there is a growing opportunity to service this market," claims Goncalves, noting that KEW Foundries is well positioned.
Meanwhile, KEW Foundries is maintaining its focus on specialising as an iron foundry. "We have been producing iron products for the life of the foundry, which is 125 years," maintains Goncalves.
The foundry is focused on extending its capabilities in producing and casting iron components, as well as its sophistication. KEW Foundries can produce iron varieties that provide all the mechanical properties of high-grade cast steels at a competitive price, he concludes.