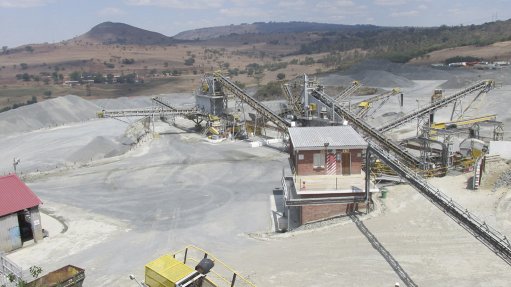 COMPLIANCE GUARANTEE Procuring equipment from an Aspasa associate member will ensure compliance with the Mining Health and Safety Act of 1996, as well as the Consumer Protection Act of 2009
Surface mining association Aspasa is encouraging suppliers, service providers and contractors, such as those in the materials handling and logistics sector, to become associate members of the association to meet the industry's future challenges.
Aspasa director Nico Pienaar stresses that this engagement will allow for the use of supplier and end-user expertise and assistance in the establishment of best practices, the training of members, advisory services and compliance, as well as aid government's local-content drive under Mining Charter III.
"We want to be proactive and ensure that everybody in the surface mining value chain is directly involved in shaping the industry of tomorrow. As an industry, we rely heavily on suppliers and want to encourage healthy two-way cooperation that can improve and support our members' efforts," he says.
Aspasa represents surface mines and quarries, rock dumps, aggregate and sand producers, mobile crushing and recycling, ash and coal, granite, clay brick and other mining operations.
Companies that become associate members of the association, says Pienaar, will benefit from information sharing, with a suppliers' committee already established to facilitate collaboration between suppliers and the industry. The committee met for the first time in March and the next meeting is scheduled for June 27.
"If a company is an associate member, it is part of us and it will benefit from greater networking opportunities with mining companies, which includes hosting of events in its field of expertise. If service providers, suppliers and contractors don't have an avenue through which to talk to the industry, they will struggle to develop solutions that are relevant to the industry," Pienaar notes.
By becoming a part of Aspasa, companies will understand what solutions the sector needs and will also have an opportunity to help improve awareness of new solutions available to the industry. Networking with mining companies will also enable associate members to keep abreast of inferior or inadequate solutions that have been imported and/or bought locally by mining companies and have failed to meet local operating demands or are noncompliant with legal requirements.
"Cheaper materials handling equipment is being imported that is noncompliant with legislation under Section 21 of the Mine Health and Safety Act (MHSA) of 1996, such as the need for dust suppression," Pienaar highlights.
Procuring equipment from an Aspasa associate member will prevent such problems as the association requires suppliers to the mining industry to not only comply with the MHSA but also the Consumer Protection Act of 2009.
Pienaar emphasises that, as per the MHSA, as soon as suppliers, service providers or contractors do work for a mine, they become part of that mine and are liable to the regulations under the Act. Sadly, he says, there are companies supplying or manufacturing equipment that does not comply with Section 21 of the MHSA.
However, once mines buy this equipment and sign it off, it becomes their problem – not that of the supplier. Subsequently, when this equipment is found to be noncompliant, it is the mine not the supplier that is shutdown under Section 54 of the MHSA. "We can work together on eliminating such outcomes," advances Pienaar.
An apt example of the importance of supplier engagement is the recent legislation on proximity detection systems (PDSes) on trackless mobile machines (TMMs).
The MHSA states that, besides being equipped with effective warning measures and the means to retard speed through automatic breaking, TMMs must be equipped to "fail to safe" without human intervention to prevent a collision.
Pienaar states that Aspasa has, over the past two years, worked closely with authorities, such as Minerals Council South Africa, and industry experts in conjunction with equipment suppliers and technology developers to formulate a strategy for small and medium-sized surface miners.
Nevertheless, he notes that the PDS solutions offered by some suppliers are still able to only warn TMM operators of potential collisions and are unable to stop a TMM when it detects a person, animal or other vehicles. Further, other systems can retard the movement of TMMs, while about two can actually stop the vehicle before a collision. "There is still great confusion and uncertainty and most of the suppliers of the systems are working to ensure their systems are effective and cost effective, as small operations will not be able to afford expensive, complicated systems," states Pienaar.
Measures need to be in place by December 2020, failing which severe action will be brought against responsible parties and mine owners. Further, Pienaar warns that miners need to ensure that the PDSes being installed on TMMs are approved by the mining equipment's original-equipment manufacturer.
"The legislation around PDSes has given rise to a sector-specific strategy that is acceptable to all parties concerned and will be implemented in time to meet authorities' looming deadlines," he notes, adding, however, that there are many more instances where such engagement is needed.