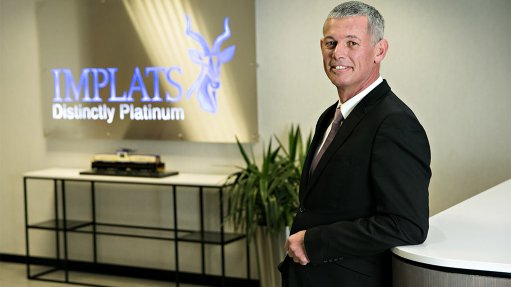 Implats CEO Nico Muller
JOHANNESBURG (miningweekly.com) – The gross refined production of platinum group metals (PGMs) mining company Implats declined by 6% to 2.35-million ounces in the nine months to March 31, when sales volumes of 2.38-million ounces were 4% lower than the prior comparable period.
"The operating landscape continues to be challenging," Implats CEO Nico Muller stated in a release on Friday.
The JSE-listed company head cited escalating geopolitical conflict, rampant inflation, constrained supply chains and a tight labour market as compounding the production impact of extended safety stoppages and the operating protocols required to manage Covid-19.
But improved organisational flexibility enabled Implats to withstand considerable headwinds, which Muller described as being "a credit to our people, who continue to demonstrate remarkable adaptability, resilience and innovation".
Though volatile, PGMs pricing has remained particularly robust.
"We continue to experience strong demand for our primary products from our customer base, despite the demand impact of constrained auto supply chains and the increasingly uncertain outlook for global growth," said Muller.
Free cash flow generation during the period has kept the balance sheet strong and flexible.
Focus for the remaining months of Implats' financial year to end June would, Muller said, include embedding operational stability in a period where the risk of unplanned interruptions had increased.
"In the face of an increasingly complex and variable operating context, it is critical that we continue working closely with our key stakeholders, in a constructive and positive way, to ensure safe and profitable production – through which we can deliver value to all our stakeholders."
Two fatalities were recorded in the third quarter, despite a 24.3% improvement in the reported lost-time injury frequency rate.
Production in the nine-month period to March 31 was negatively impacted by several operational challenges across the group.
A notable impact on production was recorded after extended safety stoppages, intermittent industrial action and power supply interruptions at Impala Rustenburg, and supply chain and labour availability constraints at Impala Canada.
Tonnes milled from managed operations declined by 4% to 16.66-million tonnes, while the average six-element (6E) mill grade declined by 1% to 3.60 g/t.
The 4% decrease in mine-to-market 6E concentrate production, to 2.11 million ounces, reflected the impact of lower contributions from Impala Rustenburg, Impala Canada and Mimosa, which offset the benefit of stable volumes from Zimplats and Two Rivers, and a record result at Marula.
Received 6E third-party and toll material in concentrate of 277 000 oz was stable relative to the prior comparable period and, in total, gross 6E concentrate production decreased 3% to 2.38-million ounces.
Refined 6E production in the prior comparable period benefitted from increased processing availability owing to the timing of yearly processing maintenance.
In the period under review, scheduled maintenance in the first quarter, together with lower concentrate production and the full rebuild required at the Number 3 furnace in Rustenburg, resulted in the 6% decline of total gross refined 6E production to the level of 2.35-million ounces.
Changes in concentrate feeds and individual metal pipelines resulted in a decline in minor PGMs production, while refined nickel volumes increased by 4%.
Impala Rustenburg's refined 6E production declined by 16% to 860 000 oz, while refined volumes at Impala Refining Services (IRS) increased by 2% to 1.32-million ounces.
The 4% 6E sales volumes decrease to 2.38-million ounces benefitted from the destocking of iridium and ruthenium as demand and pricing strengthened during the nine-month period.
Marula delivered record production in the nine months, with tonnes milled up 9% to 1.51-million tonnes, milled 6E head grade 3% higher at 4.51 g/t and 6E concentrate production increasing by 9% to 197 000 oz.
Impala Canada continued to face challenges associated with global supply chain constraints and labour availability, resulting in hauling constraints and increased downtime at the processing plant, which impacted achieved recoveries. Milled volumes decreased by 4% to 886 000 t, while milled head grade rose by 3% to 2.80 g/t. Third-quarter metal in concentrate of 62 000 oz was 4% lower than that achieved in the prior comparable period.
Milling operations at Mimosa, in Zimbabwe, were negatively impacted by power interruptions and a planned plant shutdown, which together with elevated water impurities impeded process recoveries.
Two Rivers was adversely affected by a series of external events in the quarter, including community unrest and localised Eskom power availability issues as a result of poor weather.
IRS's concentrate receipts were positively impacted by higher deliveries from third parties, which offset delays in dispatches from both Mimosa and Zimplats. Mine-to-market receipts of 328 000 oz were largely unchanged, while third-party and toll receipts increased by 12% to 89 000 oz as certain new contracts delivered increased volumes in the period.
Refined 6E production of 467 000 oz from both mine-to-market operations – Zimplats, Marula, Two Rivers and Mimosa – and IRS third-party and toll customers was 5% higher.