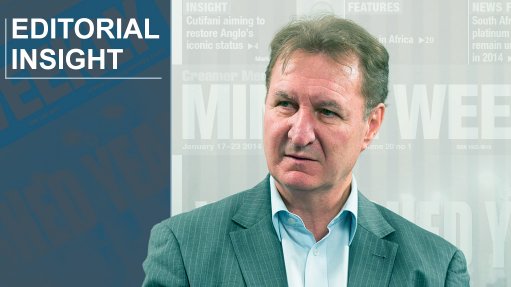 JSE-listed platinum mining company Implats has embarked on a strategy to research and develop modern mechanised mining in all parts of the group. Read on page 13 of this edition of Mining Weekly of the perpetuation of current mining methods being ruled out. Already under way with platinum peer Amplats is the testing of disc-cutter technology as well as long-hole stoping in collaboration with Pretoria University. Mechanising mining in narrow hard-rock reef remains the big challenge for the platinum company, which has already successfully mechanised off-reef horizontal development.
State-owned rail enterprise Transnet, which helped the JSE-listed Exxaro Resources to increase its coal exports by 15% in 2013, is now facilitating the potential doubling of the exports from the remote Waterberg coalfield. Read on page 10 of this edition of Mining Weekly of Exxaro CEO Sipho Nkosi describing as "quite remarkable" the work that Transnet had done in the Waterberg, where it is now providing four trains a week, up on its previous two a week. If sustained, that rail frequency will double the Grootegeluk coal mine's export capacity to 4.5-million tons a year in 2014, in line with the steps that Exxaro is taking to grow its coal export business.
Overall rail capacity in the Waterberg has been increased from 4-million tons to 6.5-million tons a year through the creation of an additional rail loop and a second loop will be put in place this year to take capacity to 10-million tons a year and allow 200-wagon trainsets to function from the Richards Bay Coal Terminal through Ermelo into the Waterberg.
A new fully automated low-seam mining system, which facilitates access to mineral resources hitherto too difficult to mine, is able to achieve high outputs of 10 000 t a day in seams as low as 1.3 m, Mining Weekly reports on page 11 of this edition. Supervised from a remote operating centre, the automated longwall system cuts and supports the roof automatically, with sheared coal falling onto an armoured face conveyor system for transporting from the face. The low-profile system achieves output improvements of between 20% and 80%, depending on the seam.
Data is transmitted to surface, where advanced monitoring is performed to predict potential equipment failures, recommend process improvement and define specific maintenance needs.