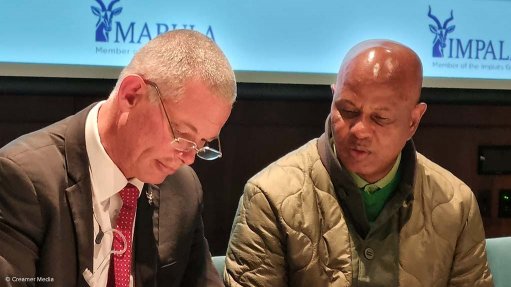 Implats CEO Nico Muller and AMCU president Joseph Mathunjwa
JSE-listed Impala Platinum Holdings (Implats) on June 28 signed a five-year wage agreement with the Association of Mineworkers and Construction Union (AMCU) for its operating subsidiaries Marula and Impala Rustenburg, effective July 1.
The agreement is in line with current inflation of 6.5% and also considers the reality of sustained inflationary pressures faced by employees, says Implats CEO Nico Muller.
He lauds his team and the union for having engaged constructively and in good faith to reach a mutually beneficial outcome and one that contributes to the long-term sustainability of the mining industry.
Muller explains the deal did not arise from four or five meetings, but from a years-long relationship and established trust between stakeholders.
The agreement provides for increases to salaries, living-out and home-ownership allowances, medical aid contributions, pension fund contributions and funeral cover.
Muller points out that the agreement removes substantial uncertainty for employees and ensures stable production and financial planning for Implats.
For example, Implats recently committed to spend around R50-billion on capital investments over the next five years to increase beneficiation capacity and extend the lives of its projects.
AMCU president Joseph Mathunjwa concurs that the wage agreement is fair and sustainable. "These five years will give us time to devote the necessary attention to the upliftment of the communities and addressing their socioeconomic needs.
"We will also be able to have a renewed focus on health and safety issues, while preparing ourselves for the Fourth Industrial Revolution by upskilling workers and focusing on industrialisation and beneficiation," he says.
Implats paid R16-billion in wages to its about 34 000 employees in the 2021 financial year. The company indirectly supports close to 500 000 people.
The company spent R162-million on socioeconomic community development in the country in the 2021 financial year, including donations to various causes such as those addressing gender-based violence and Covid-19 relief.
Implats also donated R10-million towards disaster relief in KwaZulu-Natal when the province experienced devastating floods in April.
Muller highlights that Implats also spent R2.7-billion on local procurement in the last financial year, which is "testament to the company's commitment to contribute positively to society".
AMCU also secured a five-year platinum wage agreement with Anglo American Platinum (Amplats) in May, leaving Sibanye-Stillwater as the last major platinum producer to conclude a wage agreement with the union.
Amplats agreed to increase salaries and related allowances – the total labour cost-to-company by an average of 6.6% a year over the next five years.
Northam Platinum already signed a five-year wage agreement last year, involving an average 6.5% yearly wage increase.
Commenting on Sibanye's platinum wage negotiations, Mathunjwa expressed hope that it will not take a three-month strike to reach an accord with the miner, as was the case with the miner's gold operations.
Sibanye finally signed a gold wage agreement for an average 6.3% increase every year over three years, while artisans and miners were offered a 5%, 5.5% and 5% increase over the three years, respectively, on June 11.
Meanwhile, Muller reiterates the compelling benefits that can be in store for South Africa, should Implats succeed in acquiring fellow platinum miner Royal Bafokeng Platinum.
The deal can provide more employment opportunities in North West and make for meaningful extensions to the lives of the mines of both companies, he says.
Mathunjwa agrees, mentioning the need for more local beneficiation and expanded mining operations, to help solve the social "ills" of current times.