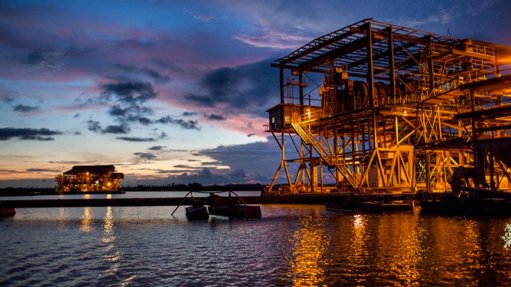 A floating plant at Sierra Rutile's operations.
PERTH (miningweekly.com) – ASX-listed mineral sands miner Iluka Resources' £215-million takeover of Aim-listed Sierra Rutile could be delayed by three months as the German Antitrust Authority investigates the merger.
Iluka in August reached an agreement with Sierra Rutile to acquire all its issued shares for 36p each. The merger received Sierra Rutile shareholder approval at the start of September; however, the German Antitrust Authority has now advised the parties that it has referred the merger to a "phase 2" review, which could take up to three months to complete.
Iluka and Sierra Rutile have five business days in which to agree on how to proceed with the merger, in respect of the extended review.
If the parties are unable to reach an agreement on the way forward, either party could elect to terminate the merger.
Iluka holds a number of mineral sand operations in Australia, while Sierra Rutile is ramping up a new mine, Gangama, in Sierra Leone, which is expected to achieve steady-state production in the third quarter of this year. The new mine will help to increase production to between 120 000 t and 135 000 t this year.