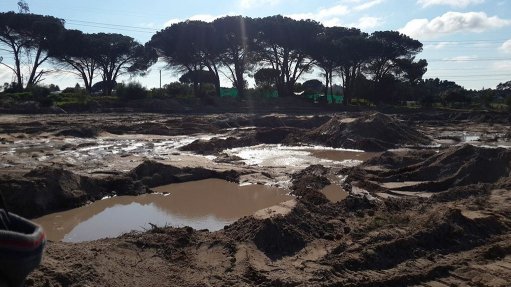 A MUDDY MESS Illegal sand mining can result in soil erosion, sinkhole formation and the loss of biodiversity, as well as the contamination of soil, groundwater and surface water
Illegal sand mining is a significant part of the $200-billion global environmental crime challenge, says Western Cape Department of Environmental Affairs and Development Planning environmental compliance and enforcement director Dr Eshaam Palmer.
Palmer was addressing black-owned training and conferencing company Intelligence Transfer Centre's fifth yearly EnviroMining conference, held in Johannesburg last month.
He pointed out that environmental criminals were also often part of global syndicates that were involved in other major crimes, such as drug smuggling, illicit arms smuggling and human trafficking.
Palmer highlighted that the environmental impacts of illegal sand mining could result in soil erosion, sinkhole formation and the loss of biodiversity, as well as the contamination of soil, groundwater and surface water.

"These activities also cause destruction and disturbance of ecosystems and habitats and, in areas where there is a high water table, it might also disturb or destroy productive grazing and croplands and contaminate natural waterbodies."
He added that, even though illegal sand miners operated on a small scale, they removed important riparian stabilising vegetation. This vegetation helps to reduce erosion by holding soil in place, protects the water quality by filtering sediments and pollutants, and provides a habitat for wildlife and cover for fish along riverbanks and shorelines.
"Rivers are one of the few inland water sources and, owing to low rainfall volumes, increased pollution and consumption quickly outstripping supply, water security will be one of the major challenges the country will have to address over the next five to ten years."
Palmer further noted that, in urbanised environments, illegal sand mines produced noise and dust and resulted in visual pollution.
He also highlighted that sand dunes formed an important buffer that served to counteract the effects of climate change, such as the rising level of oceans and the effects of major storms.
As a result of illegal sand mining activities, sand dunes were being eroded, thereby placing lives and properties at risk.
Illegal sand mining affects the viability and profitability of the legal sand mining sector, as illegal mines are often located on or near legal mines. Because illegal mining is not subjected to paying for land use and other related mining amenities, it can undercut legal mining substantially.
Palmer also stressed that there had been a "dramatic" increase in uncontrolled and illegal sand mining in rivers, valleys and estuaries throughout South Africa over the past five years.
He attributed this to only basic equipment being required for this "highly lucrative" illegal industry, which provides various types of sand to supply glass, jewellery and water-filtration manufacturers, as well as artificial reef producers.
In Philippi township's agricultural area, in the Western Cape,
large-scale illegal sand mining was threatening crop production and jeopardising the long-term livelihoods of thousands of agricultural workers, Palmer warned.
"Illegal sand mining operations in Philippi are also threatening the safety of residents," he added.
Palmer said there had also been several cases where school principals in Philippi had given permission to illegal mineworkers to conduct mining activities on school premises, thereby placing the health and safety of learners at risk.
However, he pointed out that, currently, most of the illegal sand mining operations in South Africa were taking place in the Eastern Cape and KwaZulu-Natal, with more than 200 illegal mines active in these provinces.

Palmer noted the 'Sand Supply from Rivers within the eThekwini Jurisdiction, Implications for Coastal Sand Budgets and Resource Economics' report, published by the Council for Scientific and Industrial Research in 2008, which covered all 18 rivers in the eThekwini municipality's jurisdiction, from the Tongati to the Mahlongwa rivers.
He said that, according to the report the rates of sand extraction exceeded the natural sediment yield of the river systems, resulting in a net loss of sand from the broader system.
The report attributed this critical sand supply deficit to upstream legal and illegal sand mining, which resulted in the removal of one-third of all sediment in the river systems.
Palmer estimated that, over the next five to ten years, about 30% to 90% of sand in eThekwini's rivers would have been removed, owing to legal and illegal sand mining operations.
Sanding It Down
Palmer averred that, in the Western Cape, illegal sand mining over the past ten years had reached a critical level and was "getting out of control", as certain parts of the province were regarded as "no-go areas", even for the police.
In October 2014, the Green Scorpions – a network of environmental enforcement officials from different government departments, including the Department of Environmental Affairs, provincial environmental departments and other provincial and municipal organs of State – launched a raid to shut down an illegal sand mining operation, which was operated by two wealthy Russian oligarchs in Stellenbosch.
The raid was also supported by and coordinated with the International Criminal Police Organisation, or Interpol, the Department of Mineral Resources, the local municipality and the Directorate for Priority Crime Investigation, the Hawks.
"About R3-million worth of equipment was confiscated and impounded . . . Currently, criminal and civil proceedings are ongoing against the illegal mine operators," stated Palmer.