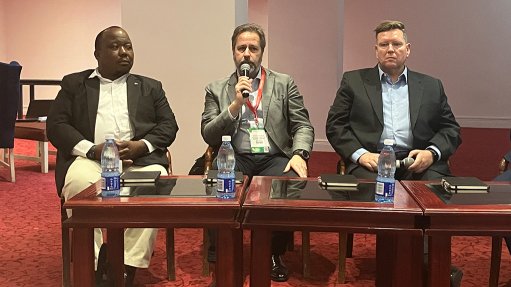 Mosa Mabuza, Richard Downs and Warren Beech
Illegal coal mining will create complexity around South Africa's efforts to get to net-zero, says Beech Veltman CEO Warren Beech.
Beech Veltman is a law firm with a team specialising in the mining sector.
Speaking at a Bureau Veritas panel discussion on the sidelines of the Investing in African Mining Indaba, held in Cape Town this week, Beech noted that "illegal mining on the coal side was quite frightening".
"We have moved over the last 12 to 15 years from small-scale entrepreneurial community members picking up coal, or going to get a bakkiefull of coal, to entire enterprises.
"Illegal mining is a complete parallel universe. It is structured. It is no longer an ad hoc group of people taking coal."
Beech added that there were ownerless coal mines that were accessible to illegal miners as they had not been closed properly.
"But also, you have illegal mining happening alongside legal mining at the same site."
Beech said the sheer scale of illegal coal mining required a consolidated approach from government and all the relevant stakeholders.
"If the enterprise is that big on the illegal side, you need a likeminded response."
Beech said the scale of illegal coal mining added complexity to South Africa's efforts to reduce its carbon emissions.
"And you can't simply wish it away."
Greenwashing
Bureau Veritas metals and minerals senior VP Richard Downs noted that greenwashing was a "big problem" for the world at the moment.
Greenwashing involves making unsubstantiated claims to deceive consumers into believing that a company's products and operations are environment-friendly.
However, where does this leave companies that do their best to improve their environmental footprint?
"Too many organisations, countries and corporates are publishing targets, making commitments, but then they do not have a valid way to demonstrate that they are achieving what they have set out as their goals and ambitions," explained Downs.
"The risk with this is that it threatens to reduce people's confidence in the journey to net zero."
Downs said this was where organisations like Bureau Veritas had a role to play – "in helping our clients to set up a strategy to achieve net zero, to implement that, and, importantly, to be able to provide independently verified evidence of that progress".
Bureau Veritas provided global testing, inspection and certification services.
Beech noted that greenwashing was "very real".
"We need to understand ESG [environment, social and governance], and make sure that we take everyone with us on the journey.
"Trying to push it into communities and into operations will lead to tears."
Beech added, however, that ESG was, in his view, currently being used as a "rigid gatekeeper" to certain investment, and that it didn't take into account the African reality, which included high levels of poverty.
Council for Geoscience (CGS) CEO Mosa Mabuza emphasised that South Africa had committed on the global stage to working towards reducing its carbon emissions, but that it had never committed to moving away from hydrocarbons.
"And, the way to move away from carbon, is not necessarily to abandon coal as a resource, and our energy security with it.
"Give science a chance. If we can send men and women to the moon, I cannot see how we cannot put resources into place dedicated towards net zero with hydrocarbons.
"Coal is not the enemy."