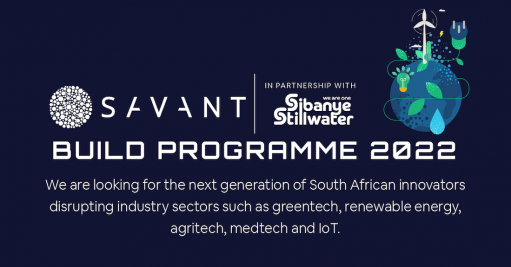 Savant, in partnership with Sibanye-Stillwater iXS, are looking for the next generation of South African innovators disrupting sectors such as greentech, renewable energy, agritech, medtech, and IoT, to join the Sibanye-Stillwater and Savant BUILD programme.

The structured incubation programme is specifically designed to prepare successful candidates for funding opportunities offered by Sibanye-Stillwater iXS and the Savant Venture Fund.

Successful applicants will enjoy the dedicated support of the Savant team, including one-on-one mentoring and access to an unrivalled network of partners. They will attend hands-on workshops, and enjoy the benefits of personalised business advice and support.

Specialized support is at the core of Savant's philosophy and we don't believe in a "one-size-fits-all" approach. Together we will build, scale, and finance your innovative idea supporting you through every step of the business-building process.

The Savant BUILD programme in partnership with Sibanye-Stillwater iXS will run from 5 September 2022 to 10 February 2023.

Apply now and together we can change the future - CLICK HERE
Applications close 14 August 2022.
For more information about Sibanye-Stillwater CLICK HERE