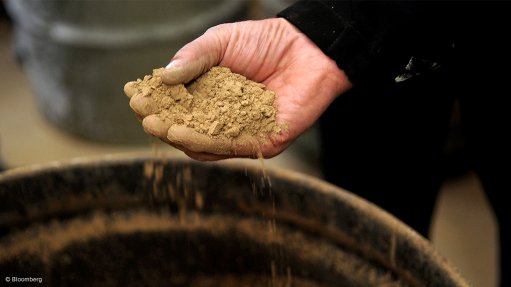 Rare earth elements.
Photo by: Bloomberg
TORONTO (miningweekly.com) – Montreal-based rare earth elements (REE) development company Geomega Resources is making steady progress with research and development work on a proprietary technology that could have the power to reshape the rare earths industry.
Despite it still being early days, and the technology not having been commercially tested yet, speculators have so far this year been rewarded with handsome returns on investments, as Geomega's TSX-V-listed stock had risen 690% in value to C$0.77 apiece from the start of the year.
"In theory, Geomega's new technology has the potential to revolutionise the REE industry and remove dependence on China – a huge issue in particular for the US, Japan, and South Korea. While there still is a lot of process optimisation and engineering work ahead of us, we are confident that we will succeed to scale-up our technology to a commercial level," Geomega director, president and CEO Simon Britt told Mining Weekly Online on Friday.
Geomega is one of the only known companies developing an advanced technology for processing rare earths using no organic solvents, which is in stark contrast to China, which dominates the REE market with about 95% of global output.
The reason why China was able to attain its position of dominance, Britt explained, was owing to its lack of environmental control and cheaper labour, which made expensive solvent-based REE projects profitable. However, in the rest of the world, where there are in general stricter environmental protocols and where labour is not as cheap, it is all but impossible to compete on the global REE market.
However, should Geomega's new REE separation technology be successfully proven, China's grip on the global REE market could soon be something of the past. Molycorp Inc, in the US, and Lynas Corp, in Australia, are the main sources of REEs outside of China.
While the mining of REE orebodies is in itself not "difficult", it is the separation of saleable products comprising pure individual metals or compounds that poses the greatest challenge in this field. Market projections suggested that the demand for 'light' REEs, such as neodymium, europium, and 'heavy' REEs, such as terbium, dysprosium and yttrium, would exceed supply beyond 2020.
PROPRIETARY TECHNOLOGY
Britt explained that engineering and research school Polytechnique Montreal had been working on something called 'Pearse technology', which caught the company's attention late in 2011. By early 2012 their team of engineering physicists had demonstrated the feasibility of the technology by building and testing a prototype capable of separating selected REEs.
The separation process exploits free-flow electrophoresis technology to create separation between the REEs.
In January last year, Geomega moved to acquire all the rights, title and interest in the Pearse technology, in exchange for common shares of the company and licensing fees.
Geomega then started to file patents in multiple jurisdictions, and it was during this time, Britt said, that the company found biopolymers and bioparticles research firm FFE Service, based in Munich, Germany, under the leadership of Dr Gerhard Weber. It had subsequently signed a cooperation agreement to collaborate on developing a high-throughput REE separation process based on the free-flow electrophoresis technology. Weber, the CEO of FEE, is regarded as a world leader in free-flow electrophoresis.
A significant breakthrough came in January this year, when Geomega revealed that it had validated the electrophoresis 'theory' by successfully separating selected REEs in a synthetic mixture including europium, ytterbium and lanthanum using the Pearse technology.
The significance of the announcement was that all the REEs were separated simultaneously and not sequentially; the purity level was 100%; and that the process used only electricity and no organic solvent, which meant that the technology could have a positive impact on mitigating the significant environmental risks associated with current practices.
In February the company announced that it had successfully completed separation tests to isolate 'neighbour' REEs such as neodymium and praseodymium; and dysprosium and terbium.
"Not only the separation occurs simultaneously, the slower and less abundant heavy REEs are the easiest to isolate using our physical approach. The world is funding research and development for a sustainable alternative to solvent extraction dominated by China, and this breakthrough developed with our partners over the last two years leads us to believe we are close to succeeding," Britt said.
He added that: "Physics, when understood correctly, is predictable. The perfect binary separation of neodymium and praseodymium with the currently limiting prototype equipment highlights a development team in control."
The next testing programme of separation is to be performed on a commercial mixed REE concentrate. This round would aim to separate all REE and to address complexities of a real commercial mixture, including impurities. This programme would also serve as a benchmark for future developments and tests were expected to be complete by December, reported Britt.
If commercialised, this had the potential to dramatically lower capital and operating costs for the REE industry, and to significantly reduce the environmental footprint, which had become a substantial issue in China.
In addition to the value of the heavy rare earths the technology so easily liberates, the new separation technology is a potential industry game changer and a company maker.
STANDALONE RESOURCE
According to Stockhouse TickerTrax analyst Danny Deadlock, Geomega was one of the first Canadian companies to ignite an REE sector rally in early 2011. It went public in the third quarter of 2010 at near C$0.50 a share, and following drill results in the first quarter of 2011 it gained 800%.
Over the next two years the company spent about C$14-million drilling 33 000 m on its northern Quebec Montviel REE project, resulting in significant tonnage with "what appeared" to be economic grades.
Britt said that Geomega is one of the most advanced-stage rare earth exploration companies in North America and the orebody is contained within a small footprint, has low overburden, and could be mined underground to keep the environmental impact low.
The Montviel project currently holds a National Instrument 43-101-compliant resource estimate for the 'core zone', using a total rare-earth oxide (TREO) cutoff grade of 1%, of 183.9-million tonnes grading 1.45% TREO in the indicated category, and an inferred resource of 66.7-million tonnes grading 1.46% TREO.
The rare earths are contained in a carbonatite, which is an easier ore to leach and comprises the deposits that the majority of rare-earth mines in production around the world originate from.
The Montviel project is located close to critical infrastructure, which would help to keep capital costs of mine development low.
The company was currently busy with a preliminary economic assessment, along with an updated resource estimate.
The Montviel deposit is rich in the critical magnetic elements of neodymium, dysprosium and praseodymium and also contains a large concentration of extremely valuable europium and terbium.
According to the US Department of Energy, the wide range of dysprosium's current and projected uses, together with the lack of any immediately suitable replacement, made it the single most critical element for emerging clean energy technologies. Even their most conservative projections predicted a shortfall of dysprosium before 2015.
Demand for dysprosium could increase by 2 600% over the next 25 years and demand for neodymium could increase by as much as 700%.