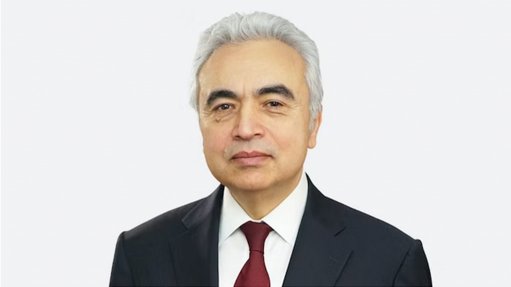 IEA executive director Dr Fatih Birol
The International Energy Agency (IEA) has warned that emissions of methane remained "stubbornly high". It did so in its "Global Methane Tracker 2023" report, published on Tuesday.
Methane is a major contributor to climate change, being responsible for some 30% of the global temperature increase recorded since the Industrial Revolution, the agency points out. Methane dissipates faster than carbon dioxide but has, during its limited lifespan, a much greater climate impact.
"Our new 'Global Methane Tracker' shows that some progress is being made but that emissions are still far too high and not falling fast enough – especially as methane cuts are among the cheapest options to limit near-term global warming," highlights IEA executive director Dr Fatih Birol. "There is just no excuse."
The global energy industry was responsible for releasing 135-million tons of methane into the atmosphere last year, which amounted to some 40% of total human-caused methane emissions. This figure was only slightly below the record level observed in 2019. Last year satellites detected more than 500 methane super-emitting events from oil and gas operations and another 100 from coal mines. Currently, each year, some 260-billion cubic metres of methane were released into the atmosphere by oil and gas operations.
"The untamed release of methane in fossil fuel production is a problem that sometimes goes under the radar in public debate," he pointed out. "Unfortunately, it's not a new issue and emissions remain stubbornly high. Many companies saw hefty profits last year following a turbulent period for international oil and gas markets amid the global energy crisis. Fossil fuel producers need to step up and policy makers need to step in – and both must do so quickly."
The oil and gas sectors could cut their methane emissions by 75% through the use of existing technologies, the IEA points out. Investment in such technologies would cost oil and gas companies less than 3% of the revenues they accrued last year (or, in numbers, it would cost them $100-billion altogether).
All non-emergency flaring (burning of excess gas) and venting of methane should be stopped. Three-quarters of the methane currently flared or vented could be retained and sold, using technologies and policies that are tried and tested.
Under the Global Methane Pledge, agreed at the COP26 Climate Change Conference in Glasgow in the UK, countries agreed to reduce human-caused methane emissions, including from agriculture and other sources as well as from the energy sector, by 30% by 2030. The countries which have adhered to this pledge are currently responsible for 55% of total human-caused methane emissions and 45% of fossil fuel methane emissions.