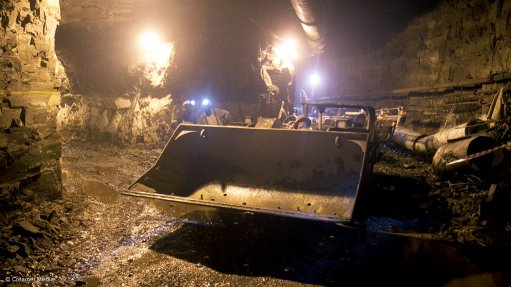 Kalagadi Manganese mine in Kalahari Basin, Northern Cape.
Photo by: Creamer Media
JOHANNESBURG (miningweekly.com) – An application of the State-owned Industrial Development Corporation (IDC) to have mining company Kalagadi Manganese placed under business rescue is being opposed in the High Court Gauteng Local Division, Johannesburg.
As a R3-billion creditor and 20% shareholder of the black women-led private company, IDC has asked the court to appoint Sibusiso Nduna and Piers Marsden as the joint interim business rescue practitioners under Section 131(5) of the Companies Act, 2008.
But effective 67% shareholder Daphne Mashile-Nkosi, through her holdings in the shareholding companies Kalahari Resources and Kgalagadi Alloys, has opposed the application and is seeking a costs order against IDC.
In court documents, IDC stated that there was a reasonable prospect of rescuing Kalagadi Manganese by affording it a much-needed debt moratorium, which would be of benefit to its 1 153 employees, creditors, shareholders and affected persons.
It stated that Kalagadi Manganese was trading in insolvent circumstances and incurring major losses each month.
An urgent restructuring of the business, its debt and other liabilities, was required, along with an appropriate debt and liability moratorium, IDC stated.
To achieve a rescue, temporary supervision and management of the affairs, business and property of Kalagadi Manganese was needed, it added.
Subject to limits, IDC said it was willing to engage with the business rescue practitioners with regard to potentially providing post-commencement finance.
Founded in 2007, Kalagadi Manganese's mine in the Kalahari basin, in the Northern Cape, has a shaft, ore preparation plant, sinter plant, smelter plant, rail siding and water dams.
The three farms – Umtu 281, Olivepan 282 and Gama 283 in the John Taolo Gaetsewe district municipality – on which it holds new order mining rights contained about 960-million tons of manganese ore deposits, the court was told.
The company's website states that its underground mine is projected to produce three-million tons of manganese ore at quality of 38% manganese a year and the plant is projected to process three-million tons of ore to produce 2.4-million tons of sinter with a 44% manganese content a year.
At full production, it is expected to produce sintered manganese with a 44% to 46% manganese content, according to the website.
The three-million-tonne-a-year mine has an expected life of more than 19 years. Of the total 1 153 people employed at the mine, 323 are employed by Kalagadi Manganese directly, 701 by Murray & Roberts Cementation, the mining contractor, and 129 by the logistics, catering and security companies contracted as suppliers to the business. At least 40% of the management positions are held by previously disadvantaged South Africans, 10% to 30% of them being women in core mining roles.
Kalahari Resources holds 35.5% of the shares and Kgalagadi Alloys 44.5%. Kgalagadi Alloys is wholly owned by Mashile-Nkosi, who also has shares directly and indirectly in the 63.34% holding of Kalahari Resources. Consequently, Mashile-Nkosi has an effective shareholding of 67%.