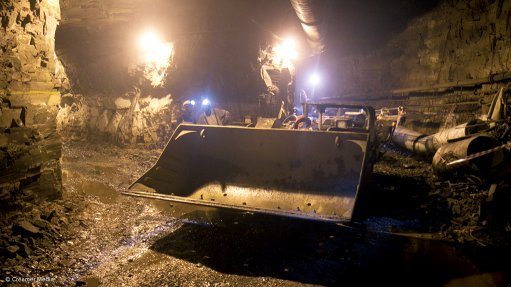 Kalagadi Manganese mine in the Kalahari basin.
Photo by: Creamer Media
JOHANNESBURG (miningweekly.com) – The Industrial Development Corporation (IDC) confirmed on Wednesday that it had initiated business rescue proceedings at Kalagadi Manganese (Pty) Ltd.
The application, issued out of the Johannesburg High Court on April 29, saw IDC argue that Kalagadi Manganese urgently required the restructuring of its business and its liabilities, as well as a moratorium on debts and other liabilities.
The matter is due to be heard on Friday, May 29.
"It is a fact that IDC has played a significant role in establishing Kalagadi Manganese. For the record, this mining firm ranks as one of the companies in which the IDC has the largest exposure," IDC divisional executive for strategy and corporate affairs David Jarvis stated.
"IDC is of the firm belief that Kalagadi Manganese can be rescued and must be rescued. The company's mineral base is a world class asset and this entity has the potential to become a world class mining operation.
"For the benefit of all stakeholders and in support of the regional economy of the Northern Cape, IDC therefore deems the business rescue option as the best possible course of action under the current circumstances," Jarvis said.
"Placing the company into business rescue was not an easy decision. However, we believe that it is the only way we can save the company from bankruptcy and thereby preserve the worth of what is potentially a valuable asset, place the business on a financial sustainable footing and save the company's more than 1 153 jobs.
"Although Kalagadi Manganese is trading, it is financially distressed and is incurring significant monthly expenses. At the moment, it is unable to service its debt obligations and will probably not be able to honour all of its debts - due in six months.
'While it argues in responding affidavit that it is able to cover its costs, the company owes just over R3-billion to the IDC and R2.9-billion to the African Development Bank – suffice to add that both these loans are now in default.
"The mine requires several interventions in order to starve off a potential collapse, and IDC believes these interventions can best be effected by a business rescue process. These interventions among others include, temporary supervision of Kalagadi Manganese and the management of its affairs, business and property as well as a temporary moratorium on the rights of, among others, its creditors. A more sustainable path is needed to get Kalagadi Mining into solvency; business rescue is just that.
"There are a range of reasons why this step is necessary, including the depressed mining environment, delays in getting the mine into production, and very real liquidity problems. The mine has increasingly relied on shareholder funds, and the IDC has become the lender of last resort over recent months.
"Commencing business rescue and restructuring the company's debts will not only preserve the employment of the company's workforce but it will also preserve value for its creditors and shareholders of an inherently good business.
"It will also allow the company to avoid the ever-increasing likelihood of the imminent cessation of its business operations. Need we add that IDC remains committed to its mandate of helping to transform the economy, preserving jobs as well as creating employment opportunities," Jarvis stated.
Mining Weekly can report that the mine has an expected life of more than 19 years. Of the total 1 153 people employed at the mine, 323 are employed by Kalagadi Manganese directly, 323 by Murray & Roberts Cementation, the mining contractor, and 129 by the logistics, catering and security companies contracted as suppliers to the business. At least 40% of the management positions are held by previously disadvantaged South Africans, 10% to 30% of them being women in core mining roles.
Founded in 2007, Kalagadi Manganese's mine in the Kalahari basin, in the Northern Cape, has a shaft, ore preparation plant, sinter plant, smelter plant, rails and water dams.
The three farms – Umtu 281, Olivepan 282 and Gama 283 in the John Taolo Gaetsewe district municipality – on which it holds new order mining rights contain about 960-million tons of manganese ore deposits.
Its underground mine is projected to produce three-million tons of manganese ore at quality of 38% manganese and the plant is projected to process three-million tons of ore to produce 2.4-million tons of sinter with a 44% manganese content a year.
At full production, it is expected to produce sintered manganese with a 44% to 46% manganese content, according to its website.