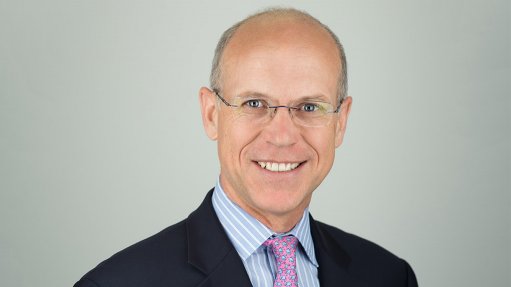 TOM BUTLER Both Minera San Cristóbal and Minsur have shown real leadership in their environmental and social performance and have valuable experience to share
Two South American mining companies, Minera San Cristóbal and Minsur, have joined the International Council on Mining and Metals (ICMM).
ICMM CEO Tom Butler notes that both companies have earned their membership of ICMM by complying with the council's "rigorous" admission procedure, adding that the companies "will bring valuable insight to our membership from their unique perspectives".
Minsur is the first domestic Peruvian company to join ICMM, demonstrating that the ICMM is not only for foreign multi- nationals, he adds.
Minsur operates in Peru and Brazil, where it mines tin, gold, niobium and tantalum. In Peru, the company's San Rafael underground mine – the third-largest tin producer globally – produces 9% of the world's tin. The company's $200-million expansion of the mine should extend its life by nine years and raise its output from 18 000 t/y to 23 000 t/y.
Minsur further expects to complete the $1.6-billion Mina Justa copper project, also in Peru, in 2020.
Minera San Cristóbal is a Bolivian mining company which has invested $1.8-billion in the San Cristóbal mine – the world's third- largest openpit silver mine and also the fifth- largest zinc mine.
Butler enthuses that the companies have shown "real leadership" in their environmental and social performance.
He explains that Minera San Cristóbal is particularly strong in its community engagement and has a best practice approach to tracking levels of community satisfaction. The miner has also achieved 99% local employment levels, he adds.
Minsur's strength is its community engagement and the company has a well-integrated approach to innovation, Butler advances.
The companies will benefit the respective communities in the countries in which they operate by sharing their approach to improving environmental and social performance with ICMM members and the wider mining industry.
Mining Outlook and Challenges
Butler is cautiously optimistic about the mining industry in South America, adding that the global move to decarbonisation will drive demand for some of the metals in rich supply on the continent such as lithium and copper.
However, community and labour issues, as well as water scarcity, continue to challenge mining companies in some South American countries, he says. For example, there are ongoing union negotiations in Chile – mining major BHP's Escondida copper mine was involved in negotiations with a worker union last month – and, in some cases, the unions have gone on strike.
In terms of community issues, Butler says there is a fair amount of community opposition to several mining projects, especially in Peru, where there are some deep-rooted negative perceptions about the mining industry in host communities.
However, he reiterates that the ICMM works with members to help them enhance their environmental and social performance and points out that, in South America, the ICMM's work programmes are particularly relevant for tailings, community engagement and water stewardship.
"In Peru, we are collaborating with Sociedad Nacional de Minería Petróleo y Energía (SNMPE) to tell people about the benefits of 'mining with principles'." SNMPE is Peru's national society of mining, petroleum and energy.
He adds that the Canon Minero – a payment of royalties to the local governments of impacted areas – has in the past not been wisely spent, leading to communities distrusting that a mine will indeed add value.
"Our communications effort is part of the solution – to close this 'trust gap'. We have to do things right, and let people know about it, and our Mining with Principles campaign will highlight many of our members' successes in partnering with local communities."
Further, ICMM members have made a commitment on water stewardship, which they are implementing. The commitment requires developing a water policy to engage on a catchment-level basis and report consistently on water use.
"This should not only help companies use water more efficiently, but also provide communities and investors with peace of mind that they are sufficiently prioritising the issue," Butler concludes.