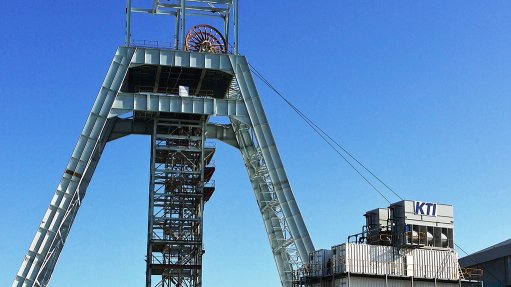 ICE FACTORY KTI-Plersch's ice cooling system helps mining companies to create a safer and healthier working environment to improve working conditions for mineworkers
In response to the intense heat that underground mineworkers endure, refrigeration specialist KTI-Plersch offers a cooling solution comprising modular containerised plate ice plants (PLIP).
Several PLIPs, with individual capacities of up to 220 t, make up a 5 MW, a 10 MW or a 20 MW ice cooling system.
KTI-Plersch sales manager Pierre Brisset tells Mining Weekly that the company's ice cooling system helps mining companies create a safer and healthier working environment, not only to improve working conditions for mineworkers but also to increase their productivity.
The system uses ice, which is conveyed from the surface, into a polyvinyl chloride tube in the main shaft and reaches underground ice-melting dams, where the melting ice starts to provide the required cooling capacity for the air and tool cooling, he explains.
Brisset adds that the system meets the increasing demand for cooling solutions in underground mines, as it is easy to install, expand and move to another location, if required.
He notes that the ice factory, which costs under R10 000 per kilowatt installed, operates nonstop for 24 hours.
The ice plants also offer the option of thermal storage to produce ice at night using cheap energy, but disburse the cooling energy at peak electricity times. The mobile ice storages not only use minimal electricity to store ice but to also deliver it on demand in a fully automated way, says Brisset.
"The system is convenient for mines, as the ice plants require minimal construction to be set up. In addition, the modular units can easily be moved to another location, should this be required."
The ice plants produce solid-plate ice, which has 100% ice-mass fraction that subsequently results in pure cooling energy that is provided underground. As the ice melts, each kilogram absorbs 334 kJ of heat, says Brisset.
"Once the ice has melted, the water is still colder than any water introduced from the surface. "The ice falls down the shaft without bridging and jamming and reaches 2 000 m below ground in a matter of minutes," he adds.
Brisset tells Mining Weekly that KTI-Plersch was contracted by mining major Harmony Gold in December 2013 to supply and install two 200 t/day PLIPs at its Phakisa gold mine, in the Free State. The mine required additional cooling capacity for the underground water chillers that another supplier had put in place.
"Two KTI ice plants, each with a capacity of 200 t/d, were prefabricated at the KTI factory and cargo-shipped to the mine. The 400 t/d ice factory was erected in just ten days," says Brisset.
He adds that the ice plants at Phakisa have been operating "almost without fault 24 hours a day" since installation and that, once the process was perfected, the nominal performance was exceeded by 10%, which proved that the system is reliable and economical.
The successful operation of the first two ice plants has resulted in Harmony ordering four more plants to be installed at its mines, concludes Brisset.