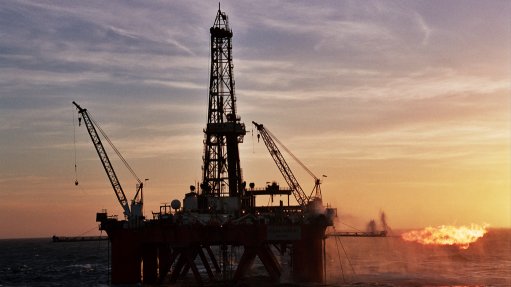 JOHANNESBURG (miningweekly.com) – ASX-listed Sunbird Energy, which is developing the Ibhubesi natural gas project offshore of the Western Cape, expects to sign a gas supply agreement with State power utility Eskom before the end of this year and to bring on a volume of gas earlier than originally planned.
Speaking on the second day of the Junior Indaba conference on Thursday, Sunbird Energy director Dorian Wrigley also assured that the price to Eskom of using Ibhubesi gas would be significantly lower than what the utility was currently paying for diesel for its Ankerlig power plant.
Ankerlig is currently burning diesel at a cost of $25/gigajoule to $30/gigajoule.
"We've got the first draft of our gas sale agreement, which has gas volumes and terms and now we're looking to get a gas sale agreement with Eskom before year end," said Wrigley, who also revealed that steps are being taken to bring on a volume of gas early.
Wrigley spoke in the place of Sunbird executive chairperson Kerwin Rana, who he said was in Europe as part of a fund-raising exercise.
Sunbird is confident of taking the project to bankable feasibility stage, which would first require $5-million and then another $15-million.
Thereafter, it would look for a big farm-out partner to be part of the process of developing Ibhubesi into a $1.5-billion operation.
Sunbird plans to build an over-engineered gas pipeline to Ankerlig, with a spur into Saldanha, so that the pipeline can double as a storage vessel.
Sunbird started out as a coalbed methane asset developer, for which it raised $10-million and which is still under way, and later acquired Ibhubesi from Forest, which exited after investing $125-million on the 540-billion cubic foot (bcf) gas resource, which is seen to be expandable to 8 000 bcf.
"We're a junior that has landed an incredibly large project," Wrigley commented.
Further up the West Coast, north of Ibhubesi, is the Kudu Gas offshore gas project, which is expected to supply gas to a power plant at Oranjemund in neighbouring Namibia.
Although South Africa still has to firm up its regulations about how gas assets will be developed, Ibhubesi is in the fortunate position of already having a gas production licence.
A five-year gas sale phase is planned before a 25-year clock begins ticking on full-scale gas production at Ibhubesi, which is seen as a potential catalyst for further gas development in South Africa.