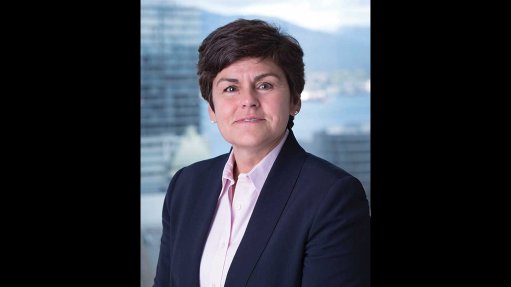 Maryse Belanger is the new chairperson of Iamgold and forms part of the committee tasked with identifying a new CEO for the gold miner.
Gold miner Iamgold has reached an agreement with shareholder Resource Capital Fund VII, managed by RCF Management, to make changes to its board of directors.
RCF nominees Maryse Belanger, David Smith and Ian Ashby have been appointed to the board as independent directors, the Toronto-listed mining company announced on Monday.
The activist shareholder earlier this month published an open letter in which it pushed for a revamp of Iamgold's board of directors, arguing that the gold company is poorly managed and in need of an urgent fix.
Belanger, currently a director of Pure Gold, Equinox Gold and Sherritt International, had been appointed chairperson, taking over from Richard Hall with immediate effect.
Hall stepped in as chairperson after Donald Charter resigned at the start of the month. Charter's resignation followed hot on the heels of the company's resident and CEO Gordan Stothart, amid a strategy review.
Smith is a director of Hudbay and Pretivm Resources, while Ashby served as president of BHP Billiton's iron-ore operations before he retired in 2012 and is currently director of Anglo American. Ashy was added to RCF's slate of nominees after Iamgold stated that Lawrence Haber, its initial nominee, was not deemed to be acceptable.
Iamgold stated that Ronald Gagel would resign from the board following the company's 2021 year-end results, and that Tim Snider would not stand for re-election at the 2022 shareholders meeting. A replacement for Gagel would be sought.
"Following the 2022 shareholders meeting, the refreshed board will consist of no more than eight independent directors, plus one executive director, once the permanent CEO is appointed."
Iamgold clarified that the committee tasked with finding a CEO candidate would consist of Belanger, Smith and Kevin O'Kane.
The recruitment of a CEO to permanently succeed Stothart is one of the main issues that RCF has had with the Iamgold board. It argued that the appointment of Daniella Dimitrov as interim CEO showed that the board "hired from those they know, rather than who the company needed".
"The board does not have the credibility to attract and retain an appropriate turnaround CEO, nor to manage a strategic review and any consequential asset sales. The most recent (interim) CEO appointment of Ms. Dimitrov is case in point and follows a predecessor that was another internal appointment who lasted less than two years with scant achievement," it stated in the February 1 open letter.
The miner's stock rose 2.4% to C$2.96 a share on Monday.