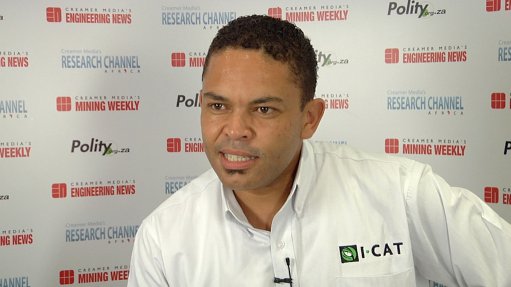 I-Cat Environmental Solutions Director
Leading environmental solutions company I-Cat Environmental Solutions, which is exhibiting for the first time at Electra Mining Africa 2016, is launching a range of water, fire and dust-suppression technologies at the exhibition this year.
Electra Mining is an ideal forum to showcase the company's services and products to potential new clients. I-Cat has been in existence for ten years and its exponential growth in the last five years has underlined its unique offering to clients in the mining industry.
I-Cat operates in a very competitive industry and Electra Mining will afford us the opportunity to offer mining operators an alternative to their current service and product providers. Due to the prestige and sheer size of Electra Mining, the company expect to draw a much more focused visitor profile dedicated specifically to finding solutions and suppliers for their specific requirements.
I-Cat is launching the following products:
The R-SDR (retractable stockpile dust ring) will be showcased as the latest innovation from I-Cat Dust Solutions. Introduced to address dust issues at conveyor discharge points, the R-SDR system creates a virtual curtain around material flow for outstanding particle containment.
The I-VAP System (wastewater evaporation cannon) from I-Cat Water Solutions is capable of handling 500 m3 per 12-hour day. The evaporation rate is 60% to 65%, depending on the ambient weather conditions.
The Roto-Fire-Pack (backpack fast response system) from I-Cat Fire Solutions makes use of T-Rotor technology, currently the leading misting technology internationally. It extinguishes all classes of fires by using foam mist as the agent.
In addition, I-Cat will also be exhibiting its standard range of products for dust suppression and environmental services, including RDC 20 and GreenBit. A range of fire extinguishers, vehicle protection and localised protection systems will also be showcased.
Visitor participation and interaction will be encouraged by on-site demonstrations of the Roto-Fire-Pack and various extinguishers and systems, together with a working scale model of a dust-suppression ring and a full-size evaporator.
I-Cat has an expert from each division on-site every day, together with a representative from top management. They will be able to answer any questions and carry out demonstrations where needed.
Our stall is number P17 on the Outside Promenade.
What makes the product unique?
I-Cat's focus is on environmentally safe solutions for the mining industry. Our motto, "change that doesn't cost the earth", underlines our commitment to deliver products and services to the highest standard, at the best possible price.
Background on the company marketing the product(s)?
I-Cst believes in brand building and awareness. We believe that 'word-of-mouth' marketing, through the delivery of quality services and products, is our biggest asset. Integrity and value is key in our service delivery and, when we uphold these values, we will be successful. We also receive a lot of coverage in the printed press and are very active on social media, including LinkedIn and Youtube, displaying our latest offerings in an interactive environment.
Is there anything else you would like to add?
All mines need to comply with environmental and occupational health and safety regulations, and most of our services and products are aimed at offering specific solutions in this sub-sector. We believe our brand is becoming well known in the mining fraternity, and we want to underline its relatability to 'excellent service' with 'superior products'.