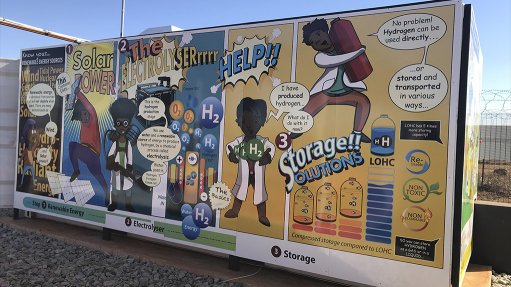 CREATIVE AWARENESS Using creative artwork to illustrate the inner workings of a fuel cell at the Poelano Secondary School near Ventersdorp
The National Hydrogen and Fuel Cells Research, Development and Innovation Strategy, known as Hydrogen South Africa (HySA), has reached the third phase of its 15-year programme, which comprises three five-year phases.
HySA – an initiative of the Department of Science and Innovation (DSI), previously the Department of Science and Technology – aims to create local capacity and knowledge that will lead to the development of value-add products in the hydrogen fuel cell technology (HFCT) sector for domestic and international markets.
"We plan to use fuel cells to provide this clean energy, subsequently ensuring that rural communities are not excluded from participating in the Fourth Industrial Revolution, owing to energy poverty," says DSI hydrogen and energy director Dr Cosmas Chiteme.
One of the projects in the third phase entails the provision of clean energy for 200 households in a rural community.
15-Year Plan
During the first phase, the focus was on building the research, development and innovation ecosystem that resulted in the establishment of reputed research infrastructure and research groups at the centres of competence located at local universities and science councils.
The research focus areas where South Africa could contribute to global knowledge were also identified during this first period, with 276 peer-reviewed publications and 15 granted patents having been generated to date.
During the second five-year phase, the programme began producing precommercial technologies focused on niche markets, resulting in a technology portfolio comprising 47 products and services.
Subsequently, more than 55% of the products are at a technology-readiness level of six and higher, which equates to the demonstration phase of a technology. The technologies range from platinum-based catalysts and membrane electrode assemblies to various technologies in hydrogen production, storage and distribution.
Examples of the technologies being developed include a fuel cell unit deployed for backup power at Windsor East Clinic in Randburg, Gauteng, in partnership with industrial gas and chemicals supplier Air Products and primary platinum producer Anglo American Platinum; and the deployment of a 2.5 kW stationary fuel cell unit at Poelano Secondary School near Ventersdorp, in North West, to power the school's information communication technology infrastructure.
A fuel cell-powered forklift with the associated refuelling infrastructure was launched at platinum miner Implats' Impala Platinum Refineries in Springs, Gauteng, as part of the drive to reduce carbon emissions in the mining sector. The forklift has been in operation since October 2015.
Through the HySA programme, public–private partnerships have been put in place to take the technologies to market, in support of service delivery through powering social infrastructure.
Chiteme says HySA is part of a broader strategy to enhance mineral beneficiation in South Africa to extract more value from its mineral resource base.
Centres of Competence
He adds that HySA comprises three centres of competence – HySA Systems, HySA Infrastructure and HySA Catalysis. "Each centre holds its own range of research and development and is led by experts in their respective fields," Chiteme added.
HySA Systems, based at the University of the Western Cape (UWC), is led by HySA competence centre director Dr Sivakumar Pasupathi, who has been involved in HySA since its inception.
Pasupathi highlights that the HFCT being developed at UWC includes demonstrating the ability of HFCT in real-life applications – such as the first HFC golf cart in South Africa.
"Further milestones for HySA Systems include the first HFC forklift and hydrogen refueling station, as well as several educational prototypes," he adds.
Pasupathi enthuses that, in addition to being noiseless and efficient, fuel cells are the only technology which can potentially be 100% clean – when using renewable resources to produce hydrogen – and can contribute to combating climate change.
HySA Infrastructure, based at North West University (NWU), in Potchefstroom, and at the Centre for Scientific and Industrial Research, in Pretoria, focuses predominantly on hydrogen infrastructure, water electrolysis, electrochemical hydrogen compression, hydrogen storage in liquid organic hydrogen carrier, and safety and codes, which aligns with HFCT.
HySA Infrastructure director Dr Dmitri Bessarabov says the centre is becoming a world leader in the research on water electrolysis. "In fuel cells, oxygen and hydrogen are combined to generate water and electricity. In the reverse process, known as water electrolysis, water and electricity are combined to generate oxygen and hydrogen."
He emphasises that, without hydrogen infrastructure, there is no deployment of fuel cells. Subsequently, HySA Infrastructure plans on rolling out commercial electrolysis systems and hydrogen refuelling systems for fuel cells. A first in South Africa, a 350 bar hydrogen refuelling station was built and is located at NWU.
HySA Catalysis, located at the University of Cape Town and Mintek, in Randburg, has so far generated 19 items of intellectual property, eight of which have been licensed exclusively to fuel cell technology company HyPlat.
HyPlat CEO and HySA Catalysis competence centre director Dr Sharon Blair boasts that the centre does research and technology development for fuel cells and electrolysers to help establish an African hydrogen value chain and hydrogen-based economy.
"HySA Catalysis is progressing in technologies, allowing for the engineering of components with increased activity and durability at reduced cost."
Chiteme concludes by mentioning that the vision of the HySA strategy is to create knowledge and human resource capacity and develop high-level commercial activities in HFCT through beneficiating platinum group metals. The HySA programme is therefore a government initiative towards a hydrogen economy in South Africa.