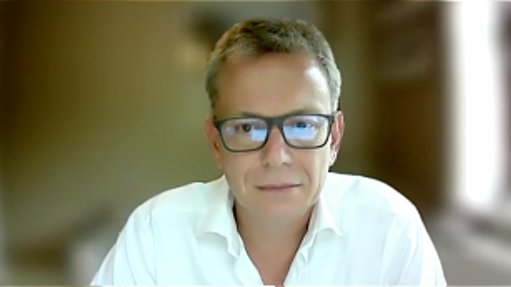 AP Ventures managing partner Andrew Hinkly
JOHANNESBURG (miningweekly.com) – Hydrogen represents a huge moment of opportunity for South Africa, AP Ventures managing partner Andrew Hinkly said on Monday.
AP Ventures began investing along the generally platinum group metals- (PGMs-) linked hydrogen value chain as long ago as 2013 and the $320-million committed in AP Ventures' second fund just closed is continuing to be deployed into the hydrogen sector.
Speaking to Mining Weekly in a Zoom interview following the closing of the venture capital firm's Fund II, Hinkly said he could not emphasise enough how well positioned he believed South Africa to be to "seize this moment". (Also watch attached Creamer Media video.)
Regarding South Africa's potential as a hydrogen developer, Hinkly said: "Given our origins within the mining industry in South Africa, the message is that specifically the mining industry in South Africa in particular is extremely well positioned to take advantage of the developments of the hydrogen industry over the next five or ten years.
"I can't emphasise that enough. I feel that the natural endowment is huge, and I'm talking here about the renewable energy endowment, not the precious metals endowment, although that's an added bonus," he said.
He described South Africa as not only being very well positioned to harness renewable energy to utilise hydrogen to decarbonise its domestic industry, but also being excellently positioned to help other countries to decarbonise their industry through the export of low-carbon hydrogen.
"I can't emphasise enough how well positioned I believe South Africa is to seize this moment to really take the opportunity to utilise the natural resources but also the experience and the capability there is within the existing mining industry.
"Hydrogen is just another commodity, just like iron-ore, just like the precious metals, just like chrome, and there are core competencies that exist within the mining industry, within South Africa, to develop, to distribute to trade and to market the existing commodities, that are equally applicable to hydrogen.
"It's a huge moment of opportunity and I look forward to working with our investors. As you know, our original investors were Anglo American Platinum and the Public Investment Corporation, and we have been joined in the last six months by Implats as well. So, we're very fortunate to be working with organisations that have the capability to develop hydrogen as a commodity.
"But there are more organisations, more mining companies within South Africa, who could equally, either with AP Ventures or on their own, seize the moment, seize this opportunity for South Africa, and that's what I'd like to see," said Hinkly.
HYDROGEN PART OF ENERGY MIX
Hinkly is of the view that the development of the hydrogen industry will be the single largest driver of future PGM demand.
Hydrogen and hydrogen-related carrier technology is expected to represent 15% to 25% of the energy mix in the 2050 timeframe.
"That bodes extremely well for PGMs and PGM-based technologies. So, the future demand is very positive and the growth rate is similar to what we see for the technologies in hydrogen," he said.
PGM-heavy technologies within the hydrogen industry take in fuel cells in the downstream segment, with proton exchange membrane (PEM) fuel cells being a critical part of that demand, and elecrolysers in the upstream segment, where not only platinum but also some of the minor metals are used. But one segment not often discussed and in which AP ventures is particularly interested in, is the midstream.
"Where precious metals are going to make a significant impact is in the liquid organic hydrogen (LOHC) technology and to a certain extent in ammonia technology as well, both of those, LOHCs and ammonia, are likely to be significant midstream carriers and storage mediums of hydrogen," Hinkly said, with both having a precious metals dependency.
SOUTH AFRICAN PRESENCE
A key part of the strategy of AP Ventures is to find technologies around the world which are critical to the development of the hydrogen value chain. Once investments are made in such companies, the fund looks to find opportunities where it can add value by finding deployment opportunities in South Africa.
AP Ventures' investments are in Altergy Systems, Amogy, C-Zero, Ergosup, Greyrock Energy, Hazer Group, HPNow, HRS, HyET Hydrogen, Hydrogenious Liquid Organic Hydrogen Carrier Technologies, Hystar, Infinium, Insplorion, Plug Power, Starfire Energy, and ZEG Power.
"We've been very fortunate in executing on that strategy with one of our companies, HPNow, in acquiring the distribution licence for the technology in South Africa, and we're in the process of establishing Protea Metsi to deploy HPNow in the South African market.
"To do so, we have a small team, now five people deployed by AP Ventures. Three of those are dedicated to this particular technology, and that is now looking for deployment partners who are willing to test the technology," Hinkly said.
The technology enables more efficient irrigation, removing in a benign manner various blockages that may occur using a very dilute form of hydrogen peroxide to ensure that the irrigation lines remain clear and can deliver irrigation to specific locations where it is needed. The intention is to localise the technology and to create future export opportunities.