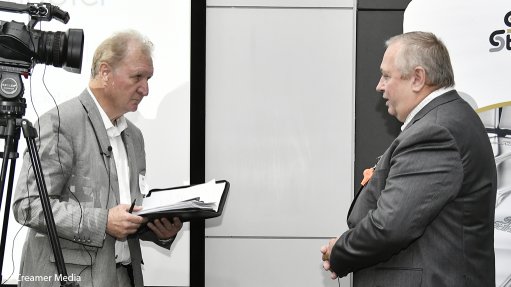 Neal Froneman (right) being interviewed by Martin Creamer
Photo by: Creamer Media's Donna Slater
JOHANNESBURG (miningweekly.com) – The next big disruptive technology will be hydrogen fuel cell technology, which is platinum rich, Sibanye-Stillwater CEO Neal Froneman said on Wednesday.
Speaking ahead of half-year results of a 44% increase in revenue to R73-billion and a R432-million profit for 2019, Froneman stated that this was the reason why platinum group metals (PGMs) and battery metals were complementary.
Sibanye-Stillwater, he said, would, together with SFA Oxford, be sponsoring a hydrogen conference in Japan during the Olympic Games, which are being dubbed the Hydrogen Olympics.
"If this is something of interest to you, then certainly you would be more than welcome to join us in Tokyo," Froneman said.
Intellectual capacity into tomorrow's metals is provided by SFA Oxford, which was acquired by Sibanye-Stillwater in March last year to do in-depth research work across the PGM value chain.
The International PGM Hydrogen Forum in Tokyo this year will represent raw material producers, fabricators, trading houses, end-users and investors.
"If you understand the demand side for PGMs, you understand it for battery electric vehicles as well," he told Mining Weekly. (Also see attached Creamer Media video.)
"Climate change is gathering a lot of momentum and there is a lot more happening than meets the eye," he said of the emerging hydrogen economy.
"Again, about like platinum substitution for palladium, I think you're going to see hydrogen economies develop much quicker than perhaps what we think as we stand here now.
"In the next five to ten years, you're going to see a lot more fuel cell driven vehicles," Froneman predicted.
The 80 000-employee Sibanye-Stillwater reported a record-breaking turnaround in the safety performance of its previously safety-ravaged gold operations.
"Safety is our first, second and third priority," said Froneman of the company having just achieved ten-million fatality-free shifts in ultra-deep-level gold mining.
On benefiting now from rocketing palladium and rhodium prices, he said that fundamental research had pointed to upcoming supply shortages of the two metals.
"Business is not about gambling, it's about analysing and assessing. Certainly, we couldn't predict the prices we're seeing today, but we could predict that there would be fundamental deficits, which were not going to be easily filled. Of course, that leads to a price squeeze, and that's exactly where we are today," he said.
ENERGY GENERATION
With electricity load-shedding and Eskom issues the single biggest risk facing South Africa, Froneman said the country had to move towards the renewables generation in terms of reducing emissions.
"So, that's a given. I think self-generation is part of the solution, and helping the government to fix Eskom is also part of what we should all be doing as South Africans," he said.
Sibanye-Stillwater was an early mover in the realm of self-generation and applied to develop a 150 MW solar power project for its Far West Rand gold operations a few years back.
"One-third of it was approved, but there were certain elements within that approval that made it completely unacceptable to move forward. Some of the State-owned enterprises did not make it easy, either.
"I think all that has changed because business is now seen as being part of the solution. There are still challenges, but I'm hopeful now that we're moving in the right direction," he said.
The company would probably now do a smaller plant in gold than the original 150 MW plant, but it has a big PGMs base in the Rustenburg area, which is also very conducive to solar energy.
"That will probably be much bigger and it'll be two separate projects. The Rustenburg project would be brand new, and we'd have to go through all the environmental permitting for that. But I can imagine that being another couple of hundred megawatts.
"We need to revisit the current economics, which have all changed since we did them a couple of years ago. We need to understand the regulatory environment better that's just been proposed by the President and the Minister before we make an investment decision, but we're working on it," Froneman added.