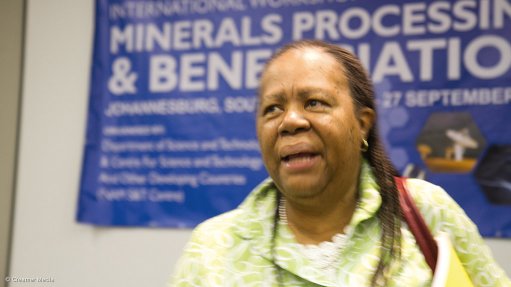 Science and Technology Minister Naledi Pandor
Photo by: Duane Daws
JOHANNESBURG – The South African Department of Science and Technology (DST), in partnership with mining giant Anglo American Platinum and gas products company Air Products, has rolled out three 5 kW hydrogen fuel cell systems to provide backup power for three schools in the Cofimvaba area of the country's Eastern Cape.
Science and Technology Minister Naledi Pandor on Friday unveiled the systems at the Mvuso Junior Secondary School, the Mfebe High School and St Marks Primary School, noting that they formed part of the department's drive to apply technological solutions to solve the energy, sanitation, health and nutrition problems encountered by these schools.
The fuel cells provided power for lights, staff computers and tablet devices being used by the schools as part of the Technology for Rural Education Development initiative, and the hydrogen gas cylinders were refilled once a month.
Air Products used remote monitoring systems to monitor the amount of gas remaining in the cylinders.
Two banks of six cylinders each fuelled the fuel cell and Air Products engineering manager Phillip Venn noted that each cylinder could provide two hours of power.
The system was a backup electricity system and was not linked to renewable-energy generation yet.
However, DST director-general Dr Phil Mjwara stated that the department would aim to link such systems to distributed renewable or alternative energy generation systems in future, and this pilot would help the department to assess the effectiveness of fuel cell technology to provide off-grid power.
The Water Research Commission also on Friday unveiled the Envirosan Easy Flush low-water toilet at St Marks Primary School. The system required small volumes of water to flush, while providing odourless and dignified sanitation.
The moulded plastic toilets emptied into a leach pit where the harmful pathogens were converted over time to harmless forms through natural biological processes. The system could also use grey water.
Schalk Burger was in the Eastern Cape as a guest of the DST.