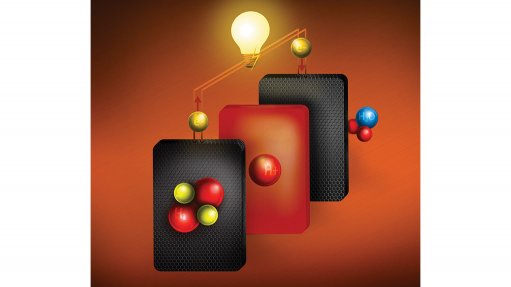 South Africa has considerable potential to lead the hydrogen economy and leverage its platinum group metal (PGM) resources; however, it is imperative that there is a social compact when building this industry, a panel of speakers noted during independent think tank, the Mapungubwe Institute for Strategic Reflection's (Mistra's) fifth yearly Platinum Group Metals Roundtable, held on November 5.
The major concern over the years from stakeholders has been the lack of synergy and collaboration, as well as not having a central coordinator of PGM activities in the country.
Participants in the previous Mistra roundtables have shared views on how intentional collaboration between stakeholders in the PGM value-chain could strengthen the industry and ensure the country's ability to take full advantage of its PGM resources.
Speakers emphasised that a social compact had the potential to result in cooperative and wide-ranging actions by different partners in government, business, labour and broader civil society.
Department of Science and Innovation power director Cosmas Chiteme said that, from government's perspective, building a PGMs industry social compact was being pursued as part of the hydrogen society roadmap (HSRM) development process, with work having started early this year.
In contextualising the hydrogen economy, he noted that there was no shortage of policies supporting the green economy and, therefore, the route needed now for the hydrogen economy was to leverage these polices and find linkages between them, while also identifying gaps that need to be filled to move forward in a more coherent way.
Chiteme enthused that there was support for this at the highest level of government, citing President Cyril Ramaphosa's State of the Nation Address in June 2019, during which he said: "We must increase the contribution of renewable and clean energy to our national energy mix and explore the potential of the hydrogen economy."
He called for a move away from business as usual, to value-added business.
In this regard, Chiteme noted that South Africa possessed 75% of global platinum reserves and that there was an opportunity to increase revenue by adding value to this resource.
Looking at the country's hydrogen journey thus far, Chiteme noted that it was indicative of the nature of innovation journeys, which took time, effort, political will, leadership and commitment.
He painted a story of its beginnings in 2007, when Cabinet approved the National Hydrogen South Africa (HySA) research and development strategy, milestones and developments over the proceeding years, all the way up to this year, when work started on the high-level HSRM.
Chiteme explained that the vision of this roadmap was for an effective integration of hydrogen-related technologies in various sectors of the economy and society to foster inclusive growth and help reduce poverty and inequality.
The purpose of the HSRM is to align stakeholders around a common vision on hydrogen-related technologies in order for the country to create an environment where investment decisions can be made to unlock the socioeconomic benefits that can accrue through its implementation.
Chiteme noted that stakeholders representing a variety of potential beneficiaries who would be negatively or positively affected as a result of implementing the roadmap had been consulted. Further consultations were also being held.
He emphasised that the development of the roadmap was a collaborative, multistakeholder and multidisciplinary endeavour, with the objective of coalescing all efforts towards unlocking the full potential of the country's hydrogen social economy.
Chiteme mentioned that stakeholder engagement through working groups had been integral to leverage on existing knowledge and expertise on general and specific hydrogen-related information towards the attainment of the roadmap vision.
OPPORTUNITIES
Chiteme said the roadmap aimed to engender the shared aspiration of beneficially unlocking the country's hydrogen opportunity.
It identifies stakeholder benefits as including job creation, economic growth and development, industrialisation, contribution to the energy sector, a just transition and economic value-add.
Growth areas that have been identified include energy, mining, transport, industry, buildings, exports and research and development.
In terms of transport, Chiteme noted that the Green Transport Strategy indicated that road transport contributed the majority of emissions from the transport sector.
As a transport fuel, hydrogen could provide the country with energy independence, lower carbon emissions and a reduction in oil imports, he noted. There were also opportunities in fuel-cell-powered trains to replace diesel locomotives, thereby mitigating against cable theft.
In terms of industry, Chiteme highlighted ammonia production, as well as petroleum and methanol production as presenting a considerable opportunity for green hydrogen.
He noted that hydrogen offered an opportunity to reduce the carbon footprint in hard-to-decarbonise industrial sectors.
In terms of buildings, Chiteme mentioned that hydrogen-based fuel cells could provide clean power for buildings, without the noise and emissions associated with diesel generators.
He said the Green Buildings Framework provided an opportunity for government to stimulate the adoption of hydrogen fuel cells through public procurement.
In terms of energy, Chiteme said the 2019 Integrated Resource Plan set out to include a significant increase of renewable energy in the energy mix. He posited that hydrogen offered an opportunity for long-term energy storage and grid stability.
He noted that hydrogen-based fuel cells provided an opportunity for offgrid electrification, especially in areas where grid extensions were not economically viable.
Owing to the speed of deployment and their modular nature, hydrogen fuel cells were ideal technology to deploy in disaster management, he highlighted.
In terms of export, owing to its considerable PGM reserves, South African had the opportunity to be part of the global value chain for value-added PGMs-containing fuel cell components, said Chiteme.
He noted that value-added fuel cell components were ideal for export owing to their high value and low mass.
He emphasised that continued research on hydrogen storage material was critical to enable the cost-effective transportation and distribution of green hydrogen, which would provide an opportunity for the country to become part of the global hydrogen value chain.
In terms of mining, Chiteme said openpit mining presented a considerable entry point for hydrogen fuel cell powered mining equipment.
Further to this, he called for continued research into effective hydrogen storage material to enable safe use of hydrogen in an underground environment.
In terms of research and development, Chiteme said continued research and innovation on hydrogen-related technologies was required to drive down costs.
He called for continued research into hydrogen compression technology to reduce the operational costs of hydrogen refuelling stations; as well as investigation into the appropriate standards and certification requirements for exporting hydrogen.
Speaking from a business perspective, JSE senior commodity derivatives officer Anelisa Matutu said the JSE was supportive of beneficiation.
She emphasised that the pursuit of beneficiation must be done in a way that was future fit.
She noted that speed would be crucial for businesses looking to capitalise on the hydrogen economy, with other countries having a specific strategy to finance their green economies.
She also said that there had to be support for industries that would help the country in terms of realising its beneficiation goals.
For the JSE's part, it does not dictate what companies include in their social compact, but rather, tries to engender global norms and standards, and thereby influence and ensure better disclosure of social efforts, Matutu said.
She also mentioned research work done on the creation of a proposed South African PGMs exchange.
At a previous Mistra workshop, the need to broaden how beneficiation strategies are envisioned was underlined, with participants strongly arguing for research into financial beneficiation.
In partnership with Pan-African Investment and Research Services and the JSE, Mistra set out to investigate the desirability and practicability of setting up a PGMs exchange in South Africa, with this report published in November 2019.
The report was focused primarily on the public policy case for the establishment of a PGMs exchange in the country.
The report posited that there was maximum possible value to be derived from using financial linkages to advance development.
Speaking from a labour perspective, the National Union of Mineworkers Research Institute's Dr Martin Kaggwa indicated that because PGMs are a common asset and all stakeholders believe they should share in the benefit they could engender, there would always be tensions over mapping out the future.
He indicated that this was exacerbated by the asymmetry of information, with private stakeholders often having more access than labour, and the latter therefore going into negotiation on the back foot.
He noted that labour believes that PGMs have a future in the medium to long term and effort was being made to develop it; however, it believed this should not follow the route used previously to develop PGM products.
Therefore, he said that having a social compact in developing this industry would help alleviate some of these tensions.
Kaggwa emphasised that it was not a question of if the social compact should happen, but rather, what the pillars of it should be, and who should head it.
He noted that labour's stance was that the pillar on which the social compact should be built was the ideal of job creation and retention, and where jobs cannot be retained, there should be a carefully mapped out strategy of how to transfer jobs to other sectors.
Moreover, there is a belief that there should be an ideal of increasing the stakes of workers and business, through beneficial employee ownership schemes, for example.
He also called for transparency in business operations, as this would ease tensions between companies and labour.
Lastly, he said there should be deliberate effort to ensure domestic ownership, with previously disadvantaged people having access and ownership of the sector, rather than the sector continuing to be skewed by the domination of multinationals.