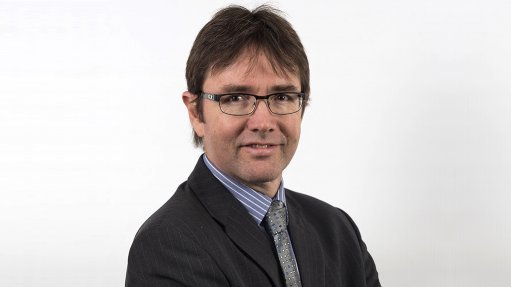 Minerals Council South Africa CEO Roger Baxter.
JOHANNESBURG (miningweekly.com) – Mobility in mining is perfectly suited to kickstarting the domestic hydrogen adoption process, according to Minerals Council South Africa CEO Roger Baxter, who drew attention during the PGMs Industry Day conference to several mining companies that had already played a leadership role in the hydrogen field.
All the options pointed to the hydrogen economy being an "incredibly exciting opportunity" for the mining industry to continue on its journey towards:
reducing the carbon intensity of its production processes;
lowering the particulate emissions from particularly its large-scale diesel vehicles;
helping to change the face of large-scale train and shipping mobility; and
to play a major role in helping the ongoing industrialisation of South Africa.
"If we can fabricate domestically and develop the intellectual property domestically and then obviously export it, it also can play a very significant role domestically," he said.
The government departments involved in the conversation, he said, included the departments of Trade, Industry and Competition, Mineral Resources and Energy, Science and Innovation and Public Enterprises.
He highlighted the fleet of hydrogen-fuel-cell-powered forklifts already in operation at Impala Platinum's refinery in Springs and Anglo American Platinum's 300 t articulated dump truck, powered by a hydrogen fuel cell with a lithium-ion battery buffer, at an advanced stage of development at the Mogalakwena platinum group metals mine in Limpopo.
In his view, Anglo's hydrogen-powered dump truck was on its way to being a big-kit global mobility game-changer, not only applicable to large mine trucks but also coming back into rail, shipping and other forms of bulk transport.
Mobility was already a considerable area of focus in discussions at the International Council of Mining and Metals and the impacts from it have the potential to cross into other sectors.
"We think it's going to be a big demand driver over time on our platinum sector and that's why it's one of the components that we've been pushing and we're focusing on developing a set of ideas on what the next practical steps are that we'll be taking back into the next meeting of our hydrogen leadership forum taking place in June.
"Then we're going to be looking at how we forge those partnerships to see how we can develop scale and how we take the whole process forward. I think government, as the chief enabler, is going to be a critical component of this entire process," said Baxter.
"I think we are focused on the right sort of issues and now we are also starting to see some of the right enablers coming through on the renewable energy side, with a dedicated focus by government on unlocking our investment on the renewable energy side," he said.
South Africa had some catching up to do with the Australians and the Chileans.
"We are going to get this convergence around energy security, reducing our carbon footprint, exporting the opportunity of the hydrogen economy, making sure that it is linked to our significant platinum resource and reserve endowment, and creating interesting opportunities for investment in platinum, as we go forward," Baxter said.
On the need to tap into the renewable energy space, he spoke of "seeing how we can massively scale up that renewable energy capability".
"We have to ensure that we have sufficient water in place, and there are some interesting debates around the fact that South Africa is a water-scarce country and where we are going to get the water from but just remember that we are producing about 80 megalitres to 100 megalitres of water out of deep-level gold mines in the Wits basin alone, which could be an interesting opportunity in itself.
"Let's look at this holistically in terms of what some of our opportunities are. We need to have the infrastructure in place, which includes power networks which would often have to be viewed in clusters in the Northern Cape or in the Western Cape located close to the green energy sources and linking back to where the key demands are located.
"We do believe we have to develop a domestic market first. You piggyback off a domestic market before you get into large export markets. Then we have to look at how we establish industrial clusters at a very practical level," he added at the PGMs conference covered by Mining Weekly.